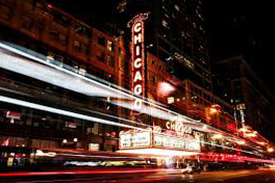 Sarah Soetaert, Josefina Gabrielle and Ruthie Henshall will be joining Oscar winner Cuba Gooding Jr in the multi award-winning CHICAGO at the Phoenix Theatre in London's West End. Following a successful UK and international tour, and after a five year absence from London, CHICAGO, the winner of six Tony Awards, two Olivier Awards and a Grammy, will begin performances at the Phoenix Theatre on 26 March.
Sarah Soetaert will be recreating the role of Roxie Hart, a role she previously played at the Cambride and Garrick Theatres. Her other theatre work includes Cats, Carousel, Fame, Kiss Me Kate, On the Town, The Sound of Music and The Glenn Miller Story. Josefina Gabrielle played the role of Roxie Hart at the Adelphi and Cambridge Theatres and will now be making her debut as Velma Kelly. Josefina played Laurey Williams in Trevor Nunn's production of Rodgers and Hammerstein's Oklahoma! at the National Theatre, in the West End and on Broadway. Josefina's other credits include The Witches of Eastwick, Hello, Dolly!, Sweet Charity, Maria Friedman's production of Merrily We Roll Along, and Charlie and the Chocolate Factory the Musical.
Ruthie Henshall has the honour of being the only British actress to have played all three leading female roles in CHICAGO, having originated the role of Roxie Hart when CHICAGO first opened in London's West End in 1997, returning to play Velma Kelly, and now returning to the show to play Mama Morton. Ruthie also played Roxie and Velma on Broadway. Ruthie's musical theatre career spans four decades, beginning with Cats at the New London, followed by Miss Saigon, Children of Eden, Les Misérables, Crazy For You, Oliver!, She Loves Me (for which she won an Olivier Award), Peggy Sue Got Married, The Woman in White, Marguerite, and Billy Elliot.
Since it opened in New York in 1996, CHICAGO has played in 36 countries worldwide, and been performed in English, Dutch, German, Swedish, Spanish, Portuguese, Russian, Italian, French, Danish, Japanese and Korean. CHICAGO continues to play on Broadway, where it recently celebrated its 21st birthday, and around the world in multiple languages. It is the world's longest running American musical.