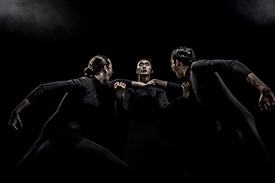 National Youth Dance Company, the country's flagship organisation for young dancers run by Sadler's Wells, will present the World Premiere of Used To Be Blonde at Sadler's Wells on 7 April ahead of a UK National Tour in June and July. The new work is created under the guidance of 2017/18 Guest Artistic Director Sharon Eyal, and this new commission will contain Eyal's signature style, conveying extreme emotions through movement.
The 41 young dancers in NYDC are mentored during four intensive residencies over the year, in order to create, rehearse and develop the new piece. They come from across England and are hugely diverse in terms of dance style and dance experience. Throughout the dancers' time with NYDC they are given a unique insight into the dance profession, gaining skills and techniques that open up career possibilities.
One of the most exciting female choreographers working today, Sharon Eyal was born in Jerusalem and danced with Batsheva Dance Company from 1990 until 2008. She served as Associate Artistic Director of the company from 2003-4 and House Choreographer of the company from 2005-12. In 2013, Eyal launched L-E-V with her long-time collaborator Gai Behar. Ballet British Columbia and Rambert2 will perform Eyal's work this year, and other companies she has worked with include Carte Blanche Dance of Norway, Hubbard Street Dance Chicago, Tanzcompagnie Oldenburg, Nederlands Dans Theater, Royal Swedish Ballet and Göteborg Opera.
Now in its sixth year, NYDC has established a reputation for innovative, challenging and influential work, producing open-minded, curious and brave dancers. The company brings together the brightest talent from across England, immersing the members fully in the process of creating, performing and touring new work, giving them a unique insight into the dance profession. NYDC has a track record of putting young people on paths to successful dance careers, with over 80% of all former NYDC dancers now either in further dance studies, in vocational training or working professionally.