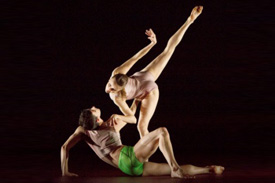 Birmingham International Dance Festival, produced by Birmingham-based DanceXchange, returns to the city from 1 – 24 June. Audiences can expect a wide variety of dance in the city's theatres, and a takeover of Birmingham's streets and squares, with free performances and opportunities to get dancing. This festival will bring the best of international dance to the city and provide a platform for local talent. The programme will delight a wide range of audiences and participants, inspiring local people, and celebrating Birmingham as a diverse city.
The 2018 festival programme is inspired and curated around themes of imagination and digital art, and reflects on the diversity of dancers' bodies. It will present work that shows choreographic practice at its best and pushes the boundaries of dance as a contemporary art form. Alongside the performance programme will be a series of professional and industry events, debates and workshops, creating a valuable space for dialogue, collaboration and sharing of ideas, as well as skills development.
Theatre programme highlights include Atomos by Company Wayne McGregor at New Alexandra Theatre on 1 and 2 June, a rare opportunity to see this celebrated choreographer's work outside London; Guide by Vera Ondrasikova & Collective makes its UK premiere at The Patrick Studio on 8 and 9 June, an absorbing audio visual experience in which the past and present become one, as the performer sculpts light watched by an audience immersed in electronic music; on 14 June ISH Dance Collective will bring vert ramps and extreme sports to the stage of Birmingham Hippodrome in Elements of Freestyle; and Midlands Arts Centre will host a festival family weekend on 16 and 17 June, bursting with an exciting indoor and outdoor programme for children and families to participate, create and watch dance.
Outdoor programme highlights in Victoria Square, in the heart of the city, will include a rich programme that includes interactive performances, participatory events, and live music and performances from local and international talent. There will also be interactive VR swings, light and sound installations and sensory technology sculptures.