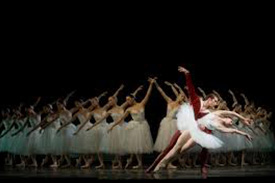 English National Ballet and English National Ballet School will soon present a new version of the well-known classic, Swan Lake, as part of its My First Ballet series created especially for children as young as three. Adapted to an hour in length and with a narrator to help young audiences follow the story, My First Ballet: Swan Lake is the perfect introduction to the magic of the theatre.
My First Ballet: Swan Lake opens at The Peacock, London on 29 March before embarking on a national tour to Churchill Theatre, Bromley (14 & 15 April), New Theatre, Oxford (21 & 22 April), Manchester Opera House (28 & 29 April), The Grand Theatre, Blackpool (5 & 6 May), New Victoria Theatre, Woking (12 & 13 May) and Princess Theatre, Torquay (19 & 20 May).
Featuring choreography by Antonio Castilla, English National Ballet's Ballet Master and Repetiteur, and Dramaturgy by Lou Cope, this new version follows the familiar story of Swan Lake, but told from a different point of view. In this new version of My First Ballet: Swan Lake, the focus is on Odile, rather than Odette, with the narrative following her journey and the difficult decision she must make, allowing audiences to explore important themes of friendship, forgiveness and honesty.
Since its inception in 2012, over 250,000 people have enjoyed the series which has included the hugely successful My First Ballet: Cinderella, Coppélia and Sleeping Beauty. It is a way to introduce new audiences to the joy of ballet, presenting popular productions in which the narrative, choreography and music are condensed, but the ballet itself is not compromised. The My First Ballet series is performed by students of English National Ballet School, providing them with valuable experience within a professional touring company.
To coincide with My First Ballet: Swan Lake, English National Ballet will host on-stage creative dance workshops, aimed to provide a gateway into the world of ballet. Children and their parents/guardians will have the opportunity to learn extracts from the production with English National Ballet dance artists, and get up close to costumes and scenery.