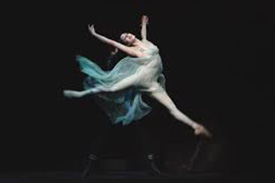 Birmingham Royal Ballet's 2018/19 season will bring enduring stories to life for a modern world through dance. Its Beyond Words season ignites the evocative power of ballet for all audiences. Throughout the course of the season, the Company will give 159 performances of 11 different productions at 13 venues across the country, with 90% of its shows taking place outside London.
From Frederick Ashton's La Fille mal gardée (26 September – 10 November), to the storybook fantasy of David Bintley's Beauty and the Beast (30 January – 30 March), and the mischievous fun of Hobson's Choice (19 – 26 June), the full-length ballets of the Beyond Words season capture classic, loved stories.
Juanjo Arqués and Didy Veldman deliver two of the season's four world premieres as part of Birmingham Royal Ballet's Ballet Now talent development programme. The Fire & Fury mixed programme (3 – 31 October) welcomes back David Bintley's The King Dances alongside Juanjo Arqués's Ignite. Inspired by William Turner's painting 'The Burning of the Houses of Lords and Commons', Ignite will bring vibrant colour to atmospheric choreography.
Didy Veldman's new work for the Company premieres as part of a mixed programme of female choreography, [Un]leashed (12 – 29 June). The bill features Jessica Lang's Lyric Pieces alongside the world premiere of Petra and the Wolf, an innovative contemporary view of the classic tale choreographed by Birmingham Royal Ballet First Artist, Ruth Brill. Petra and the Wolf also appears as part of the Company's new midscale offering, Home from Home. Inspired by Sergei Prokofiev's symphonic fairytale, Petra and the Wolf will blend classical ballet with a fusion of urban influences to create a vibrant, multi-disciplinary production.
Alongside the main programme, Birmingham Royal Ballet continues to introduce new audiences from touring venues across the country to their world-class dance and music. From primary schools to care homes, community centres to museums, the Company provides dancing opportunities for people of all ages and abilities.