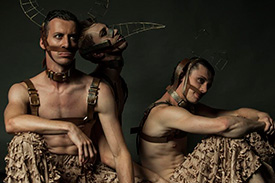 TORO: Beauty and the Bull, DeNada Dance Theatre's new production by artistic director and choreographer Carlos Pons Guerra, is a full length narrative work which presents a Hispanic take on the fairytale Beauty and the Beast. TORO then embarks on a national tour from 22 March to 27 April. It is a tragicomedy played out by conquistadors, female bulls and animals in drag.
Recently nominated for three UK Critics' Circle National Dance Awards, DeNada Dance Theatre explores Hispanic and Latino culture. Directed by the up and coming Spanish choreographer, the company is known for producing exciting and provocative work that calls for gender and sexual equality. TORO is inspired by the original story by French author Gabrielle-Suzanne Barbot de Villeneuve, set in a circus sideshow of dystopian South America.
This postcolonial reading of Beauty and the Beast reflects on male supremacy and oppression. Through a darkly ironic lens, with absurd humour and a dose of Latin drama, Pons Guerra questions who the real monsters are. The choreography for TORO draws on contemporary dance, classical ballet, voguing, bull fighting and drag to create a unique, highly physical and theatrical language. Movement narrates the story alongside an eclectic soundtrack of Hispanic and Latino tracks, including pasodobles, mambos, Latin percussion, sorrowful Mexican rancheras and the highly dramatic Capriccio Espagnol by Rimsky-Korsakov.
TORO will tour to DanceXchange, Birmingham; The Lowry, Salford Quays; Pavilion Dance South West, Bournemouth; Stanley & Audrey Burton Theatre, Leeds; PATS Studio Theatre, Surrey University; Lilian Baylis Studio at Sadler's Wells, London; and Déda, Derby.
Carlos Pons Guerra is an independent choreographer who has created work for companies including Rambert, Northern Ballet, Attakkalari (India), ENDanza (Dominican Republic), and Verve (UK). Carlos founded his company, DeNada Dance Theatre, in 2012. Originally from Gran Canaria, Spain, Carlos began his ballet training at the Choreographic Centre of Las Palmas and the Royal Conservatoire for Dance of Madrid, before completing his studies at the Northern School of Contemporary Dance in Leeds.