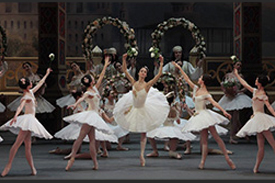 Following performances in Glasgow and Edinburgh, Scottish Ballet will take Matthew Bourne's Highland Fling north to Shetland, Orkney, Lewis and Argyll. Sponsors Loganair will fly the dancers and crew to the islands, whilst Calmac will transport the set and costumes. This is the first time Scottish Ballet has toured a full-scale production to such remote locations, where the company will turn local sports complexes and town halls into full scale theatres for the performances, giving regional audiences the same experience as those in the city.
Affectionately known as a romantic wee ballet, Highland Fling was originally produced in 1994 by Olivier Award-winner Bourne. Presented exclusively by Scottish Ballet, Bourne's Highland Fling is an imaginative re-working of the classic romantic ballet La Sylphide, with a wickedly wry Scots twist and hilarity mixed with classical ballet. Scottish Ballet is the only company to be given the rights to recreate any of Matthew Bourne's works.
In the summer, Christopher Hampson's Hansel & Gretel will be performed by Scottish Ballet outside of the UK for the first time, and the company will make its debut in Macao, following stops in Seoul and Hong Kong. A carousel of delicious treats from start to finish, Hansel & Gretel is full to the brim with magic and wit, with toys that come to life and a beautiful, bewitching ballerina. The company will also work with YDance on a major intergenerational dance event as part of the Euro Champs festival and the Year of Young People in Glasgow. It will involve community dancers aged from 15 to 70, encompassing Scottish Ballet's Youth Exchange and Elders, as well as National Youth Dance Scotland.
The winter season 2018/2019 will see Hampson's classic Cinderella returns by popular demand. Originally created for Royal New Zealand Ballet by Christopher Hampson, this interpretation of Cinderella features luxurious costumes and extravagant sets, accompanied by the Scottish Ballet Orchestra performing the famous Prokofiev score.