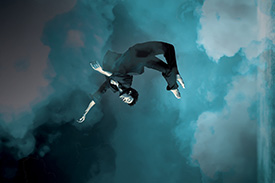 2018 is a landmark year for Rambert, and the company is busier than ever, with ambitious new creations, international touring and the launch of a new ensemble, all while expanding the company's artistic and educational work across the UK.
Rambert will continue its dedication to touring large-scale contemporary dance works set to live music with a versatile range of repertory this spring, from the iconic Ghost Dances to the company's latest creation Goat, which premiered in 2017. The hugely successful revival of Ghost Dances has its final performances in the autumn at Sadler's Wells and Bath Theatre Royal, alongside the company's new ensemble Rambert2.
In May, Rambert will create its first full-length narrative work in over 30 years, with internationally-renowned choreographer Kim Brandstrup and filmmakers the Quay Brothers. Life is a Dream is a two-act, modern reimagining of the 17th century play by Pedro Calderón de la Barca, commissioned by Bergen International Festival and premiering at Sadler's Wells before touring.
The company will extend its reach with the launch of Rambert2. This ensemble brings together ten of the world's finest early-career dancers in a new wing of the company designed to develop and showcase the next generation of highly-skilled dance artists. Rambert2 will tour the UK in the autumn with a triple bill of dance by top international choreographers Rafael Bonachela, Sharon Eyal and Benoit-Swan Pouffer, as well as Ohad Naharin's Kamuyot for non-theatre spaces.
Fellowship and associate programmes form the backbone of Rambert's commitment to supporting future generations of artists, and Rambert has appointed Joseph Howard to be this year's Music Fellow, and Hemabharathy Palani as this year's Choreography Fellow. Palani's predecessor Julie Cunningham joins New Movement Collective and Alexander Whitley as a Rambert Associate, and Rambert presents Julie Cunningham & Company's To Be Me at the Brighton Theatre Royal as part of the company's UK tour in the Spring.
More major projects and collaborations will be announced later in the year.