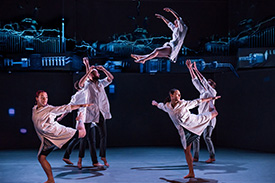 Acclaimed dance-circus company Motionhouse has launched an immersive digital portal for audiences and students to learn more about its new production, Charge, currently on tour around the UK and Europe. Art meets science with this new digital innovation, helping mark the company's 30th anniversary year.
Since its creation in 1988, Motionhouse has placed education firmly at the centre of its work. Whilst touring its trailblazing productions around the world, it has collaborated closely with schools, universities and colleges to inspire students with unforgettable experiences. The new Charge Portal at charge.motionhouse.co.uk offers exclusive behind-the-scenes content and explores the creation of Motionhouse's new dance-circus show, which is inspired by the role of electricity in the human body.
Several years in the making, Charge is a unique collaboration. The company worked with the University of Oxford to place science at the heart of the creation of the show, which explores the electrical charge that sparks human life. Charge sees six performers use highly physical dance and spectacular acrobatics, interspersed with 3D digital projections, to delve deep into the human body and to bring energy to life.
Packed with special video interviews and onstage footage, the Charge Portal provides an accessible and stimulating collection of online audience and education resources, teacher packs and workshops, to explore the science that inspired the show. The resources have been created to provide audiences with information about how Charge was made, and teachers with a wealth of engaging content that they can use to inspire and enthuse young people about art, movement and the world around them.
Charge is ideally placed to engage young learners with scientific themes and ignite a curiosity and interest in the bio-electricity of their own bodies. As well as guiding pupils and teachers scene-by-scene through the work's themes and ideas, the resources use the production as a springboard to support learning across other curriculum areas.