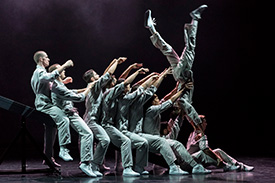 The International Emmy Award-winning, all-male dance company BalletBoyz has announced spring tour dates for its latest production, Fourteen Days, which opened to acclaim at Sadler's Wells in October 2017. The new work has been created by four internationally celebrated choreographers, alongside four eminent composers.
The production will tour to Poole, Bristol, Darlington, Nottingham, Colchester, Shrewsbury, Reading, Wolverhampton, Cornwall, Worthing, Swindon and Wycombe, as well as returning to Sadler's Wells in London. Choreographers Javier De Frutos (London Road), Craig Revel Horwood (West Side Story, Sunset Boulevard), Iván Pérez (Young Men) and Christopher Wheeldon (An American in Paris) have teamed up with composers, with each pair given just fourteen days to work with the ensemble to create the new pieces.
Javier De Frutos was born in Caracas and trained at London School of Contemporary Dance and the Merce Cunningham Studio in New York. As director, choreographer and designer, his international creations and collaborations have encompassed a variety of different disciplines and scales. Javier has previously worked with BalletBoyz when he choreographed 'Fiction' for Life.
Craig Revel Horwood is Australian-British dancer, choreographer and theatre director. Having performed across Europe as a singer, dancer and actor, he is most famous for his judging role on Strictly Come Dancing. Craig has also choreographed and directed many shows in the West End including West Side Story and Sunset Boulevard.
Iván Pérez is a Spanish choreographer based in the Netherlands. Iván has formerly danced with Netherlands Dance Theater (NDT) and IT Dansa. He won the award for 'Best Interpretation' during the 'International Choreography Competition' New York-Burgos, and was nominated for the 'Swan Best Dancer' for his role in Indigo Rose by Jiří Kylián (2006).
Christopher Wheeldon is a British choreographer who trained at The Royal Ballet School and danced with the Company between 1991 and 1993. In 2007 Christopher founded Morphoses/The Wheeldon Company and became the first British choreographer to create work for the Bolshoi Ballet. His awards include the Tony Award for Best Choreography for An American in Paris.
Russell Maliphant is a British choreographer who trained at The Royal Ballet School and graduated into Sadler's Wells Royal Ballet, before leaving to pursue a career in independent dance. In 2003, Russell created Broken Fall with Sylvie Guillem and George Piper Dances (now BalletBoyz). Broken Fall premiered at the Royal Opera House and was awarded an Olivier Award.