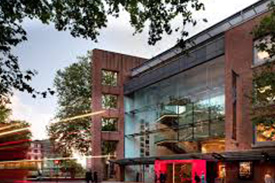 Sadler's Wells has announced 20 landmark commissions to mark the 20th anniversary of the iconic London theatre. Natalia Osipova, Mark Morris, William Forsythe, Sharon Eyal and Akram Khan are among the internationally acclaimed artists presenting new work, which will be produced or co-produced by Sadler's Wells in 2018 for its big year.
Sadler's Wells' current theatre is the sixth building to have stood on the Islington site, since Richard Sadler established a theatre there in 1683. The venue has played a vital role in the history of theatre ever since, with The Royal Ballet, Birmingham Royal Ballet and English National Opera having all begun their lives there. Since 2005 Sadler's Wells has brought more than 150 new works to the stage, and its productions have been seen by over 1.7 million people.
The works set to mark the anniversary year include:
Pure Dance, a programme of work produced by Sadler's Wells for ballerina Natalia Osipova (12 – 16 September), including two new works commissioned for her by Alexei Ratmansky and Iván Pérez, and featuring special guest American Ballet Theater Principal dancer David Hallberg.
World renowned American choreographer William Forsythe presents A Quiet Evening of Dance (4 – 6 October). Produced by Sadler's Wells, this is his first full evening presentation since he closed the Forsythe Company in 2015, and the programme includes two new works.
Icon, a new work by Sidi Larbi Cherkaoui with Antony Gormley that explores concepts of icon and iconoclasm, with a set made from 3.5 tonnes of clay (late November).
Jazz Refreshed musicians will be part of a new dance commission for the theatre's annual international hip hop dance theatre festival Breakin' Convention, marking its 15th anniversary in 2018 (5 – 7 May).
Company of Elders, Sadler's Wells' resident over 60s performance group, presents new work by Holly Blakey, Adrienne Hart and Seeta Patel (6 July).
There will be 20 commissions representing the finest talent from all over the world, and artists at every stage of their career.
The year ends with Matthew Bourne's Swan Lake at Christmas, returning with a fresh look for the 21st century. Retaining the iconic elements of the original, Sadler's Wells Associate Artist Matthew Bourne and award-winning designers Lez Brotherston (set and costumes) and Paule Constable (lighting) will create a reimagining of the classic production.