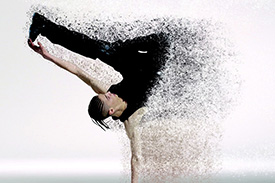 BBC Arts has outlined some of the BBC's ambitions for dance programming in 2018, in amongst the planning for arts and culture in the coming year. Today's thriving dance scene will be honoured with a special season of programming for BBC Four this spring, featuring some of today's most exciting dance makers and the enduring legacy of others, whilst shining a light on a broad range of dance styles from ballet and contemporary, to tap and hip-hop.
Ballet's Dark Knight encompasses an exploration of Sir Kenneth MacMillan's life and work as a celebrated yet controversial choreographer, whose pioneering creativity unleashed over sixty new ballets that changed the dance landscape forever. Weaving together specially shot performance footage, never before seen family home movies, and MacMillan's own voice from the archives, alongside those who were closest to him, the documentary reveals MacMillan to have been a complex figure who lit up the ballet world with his bold choreographic genius while struggling privately with alcoholism, anxiety, and depression. Packed full of extraordinary ballet excerpts showcasing a wide range of MacMillan's work including Romeo and Juliet, Manon and Mayerling, the programme offers a surprisingly moving and intimate portrait of a true giant of twentieth century culture.
Clarke Peters, actor (The Wire, The Corner, Treme) and creator of the hit musical 'Five Guys Named Moe', undertakes a personal journey of discovery across America to explore the history and origins of Tap Dancing in Clarke Peters' Tap America – an art form that has remained close to his heart since he was a child. His journey takes audiences from the 19th century conflict between Irish and African-American dancers through the troubled, white-washed Hollywood heyday of tap in the 30s and 40s, through to the 21st century and tap's contemporary significance.
Four specially commissioned 30-minute films, in partnership with Sadler's Wells, place some of today's most exciting dance artists centre stage; Zenaida Yanowsky, Carlos Pons Guerra, Shobana Jeyasingh, Dickson Mbi. The films provide unique insight into their creative processes as they rehearse new works and interpretations for the stage.