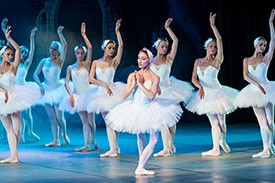 The Royal Academy of Dance has launched Discovering Repertoire, a classical ballet performance programme for students aged 12 upwards, and adults of all ages. The programme offers students the chance to learn and dance well-known, classical repertoire from Coppélia, Giselle, The Sleeping Beauty, Paquita, Swan Lake and The Nutcracker to the original score.
The programme has been trialled in 28 countries and is now available to teachers worldwide, encouraging students to learn to dance famous ballet solos. Discovering Repertoire is hoped to contribute to promoting the future of ballet heritage as a unique programme which provides the opportunity for students of all ages and levels to develop their musicality, expressiveness and artistry, whilst learning more about ballet's most popular stories and music.
Discovering Repertoire is modular and flexible to cater for a broad range of experiences and to be practical for all ages. It comprises three levels, with three units within each – a class and two classical ballet variation units – for male and female, and can be taught in addition to or instead of RAD syllabus work. There is also the option to take an exam at the end of each unit. Each unit of the programme is designed to stand alone or allow students to progress from the barre to the variation with ease, using development exercises to build up to a well-known work from the classical repertoire.
The programme's flexibility and focused content means it can be enjoyed by a wide range of students, from those with a little ballet experience, to adults returning to ballet, or vocational dancers of all levels. Discovering Repertoire allows students of all ages to apply the technique learnt in regular classes and add a touch of performance. Being a flexible programme and suitable for all ages, it hopes to newly inspire its participants.