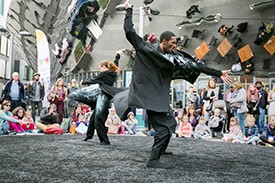 Dance Hub Birmingham has announced its second round of funding opportunities for regional artists and dance professionals.
A further four Developing Practice Grants will be available, offered across the dance sector and aimed at developing individual's practice. Additionally, Artistic Commissioning opportunities will aim to invest in work created in Birmingham and the West Midlands. Both opportunities support Dance Hub Birmingham in further developing the region's position as an international centre of excellence for dance.
Following the success of the first round of commissions, the second round of funding opportunities will support artists, producers, curators and dance sector professionals based in Birmingham or the West Midlands (Black Country, Herefordshire, Shropshire,
Staffordshire, Warwickshire, West Midlands and Worcestershire) and aim to support them in growing and sustaining their practice in the region.
With up to four grants available in this round, Dance Hub Birmingham is keen to support those who would not otherwise have the opportunity to access professional development and experience work that will create a step change in their practice, as well as those with a willingness to share their learning across the dance sector. Recipients of the first round of grants are developing their skills at the Ailey School in New York, the Women in Dance Leadership conference also in New York and mentoring with UK choreographers.
Dance Hub Birmingham is particularly interested in commissioning ambitious and distinctive projects that are focused on creating dance that is part of the fabric of the city-region reaching the widest possible audience – indoors, outdoors and digitally – in conventional and unusual performance spaces within the region and beyond. Dance Hub Birmingham is looking for co-commissions, diverse and inclusive work and work that uses digital technology in creation and/or distribution, and work that raises the reputation of Birmingham as an international centre of excellence for dance, nationally and internationally.
The deadline for applications to the Developing Practice Grants is Thursday 22 February. The deadline for Artistic Commissions is Thursday 15 February.