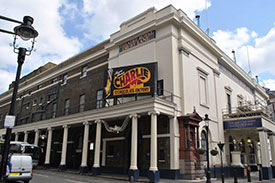 A £35million redesign is on the cards for Theatre Royal Drury Lane in London, with planning permission requested that will see its capacity reduced from 2,200 to 2,000, a new restaurant created, and the public areas restored to designs from 1812. The major revamp at the West End venue will also see ramps and lifts added to every level of auditorium to improve disabled access, as well as new offices as part of the multimillion-pound redevelopment.
Andrew Lloyd Webber's company Really Useful Theatres, which owns and manages Theatre Royal Drury Lane, will fund the redevelopment. If plans are approved, the building work would start in 2019 at the earliest, and is estimated to take 18 months, during which time the theatre would be dark. The theatre has been in continuous use as a theatre since the 1660s.
The West End theatre, currently home to 42nd Street, was built by Benjamin Dean Wyatt in 1812. It is one of the oldest surviving theatre locations in the city, a grade I-listed theatre. It is important to those involved to make sure the theatre's heritage is secured. Part of the proposals aim to bring the public areas of the theatre back as closely as possible to Wyatt's original designs; this follows a restoration of the theatre's Grand Saloon in 2013 and will restore previous designs.
The project has been in the pipeline for two years already, with the theatre having consulted various bodies including the Theatres Trust and Historic England on the plans. The proposals are the result of a long and painstaking design and consultation process which has involved the interested heritage and theatre groups. The theatre is planned to provide an environment where producers and creative artists can thrive, and everyone is welcome.