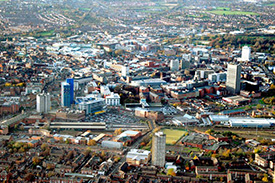 Back in 2017, Leicester City Council secured £3million to refurbish Leicester's Haymarket Theatre, which has been disused since 2007. As well as staging theatre, concerts and comedy, this will see it become home to the National Training Theatre, which will offer training in partnership with Leicester College from autumn 2018. Ambitious plans for the 70s theatre look set to succeed, and the major £3 million council investment got underway in November. 
Plays and musicals will also be staged, and the main auditorium and smaller studio space will be able to host concerts, comedy and performing arts. The theatre will be available for corporate events, making use of the two theatres, foyer and bars and the stage area. There could also be the ability to stream live performances, with filming capabilities bringing live TV or internet broadcasts in too.
The launch of the National Training Theatre will offer training on all aspects of theatre, with the first intake of students expected in the autumn of 2018. Other revenue raising opportunities may therefore include providing rehearsal space for major tours, hosting fashion events and youth theatre events, and working with the city's other venues, schools, colleges and universities. The venture is supported by Santander, Leicester accounting firm Newby Castleman, city centre law firm Spearing Waite, and Leicester-based property and construction consultancy Pick Everard.
The theatre was just four decades old when it fell into disrepair, and has been shut for 10 years since. Throughout its years of dereliction, Leicester City Council was locked into a 99-year lease on the theatre, paying £180,000-a-year in service charges, maintenance and security. The consortium which achieved the £3million funding will take on the full costs from the fourth year of the lease, and the building will become a business through its refurbishment.