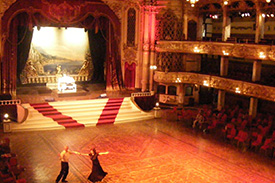 Back in 2017, Strictly Ballroom announced its West End run following huge theatrical success at a regional level. The West Yorkshire Playhouse revival of the much-loved show debuted last Christmas, starring Sam Lips and Gemma Sutton. As an iconic story it was well received news that the production would be transferring to London, providing southern audiences with the same treat as that of those in Yorkshire.
The northern production of Strictly Ballroom, directed by Drew McOnie, will have previews from 16 March. Based on the 1992 Baz Luhrmann film of the same name, with music and lyrics from Luhrmann and Catherine Martin and a book from Luhrmann and Craig Pearce, the show will run at the Piccadilly Theatre after Annie ends. Strictly Ballroom will have its opening night on 11 April. McOnie won the Olivier Award for Best Choreography for In The Heights in 2016, and last year was workshopping a new musical adaptation of King Kong.
When the transfer of Strictly Ballroom was announced last year, casting news was set to follow. Strictly Ballroom will star the popular newcomer Jonny Labey (Winner of ITV's Dance Dance Dance) and Zizi Strallen (Mary Poppins) as the star-crossed, dance-crazed lovers Scott and Fran. It will also star the acclaimed international artist Will Young (Cabaret) as the show's charismatic band-leader, and a 30-strong cast to create a wondrous world of brilliant songs and astonishing moves. The musical features the film's classic break-into-song numbers such as Love is in the Air, Perhaps Perhaps Perhaps and Time After Time alongside electrifying new songs.
It 'breaks the shackles of conformity to affirm the liberating power of dance'. Strictly Ballroom is a spirited place of hot-blooded passion, hard-won dreams and vibrant self-expression and is sure to be a hit.