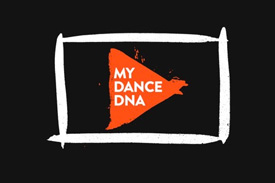 Dance Umbrella, in partnership with The Space, is to release its digital interview series My Dance DNA in its entirety. My Dance DNA brings together five of the UK's top choreographers with five leading cultural figures and commentators chosen by each artist to discuss their influences, inspirations and Desert Island Dances.  
The talks include Siobhan Davies in conversation with the Director of Tate Maria Balshaw, Shobana Jeyasingh in conversation with BBC broadcaster Nikki Bedi, Akram Khan in conversation with actor and theatre director Kathryn Hunter, Wayne McGregor in conversation with author, journalist and broadcaster Dame Joan Bakewell, and Kate Prince in conversation with actor and broadcaster Karim Zeroual. The interviews will be re-released every week from Friday 26 January at 5pm, starting with Kate Prince in conversation with Karim Zeroual. The collection of all five interviews will be available to watch online for a year from the date of their original live-stream on danceumbrella.co.uk, Facebook and YouTube.
Over 48,000 people watched My Dance DNA online when the 60 minute interviews, filmed in front of audiences at arts venues around the UK, were live streamed on Facebook during 2017. The conversations took place at Birmingham Hippodrome; The Curve, Leicester; The Whitworth, Manchester; DanceEast, Ipswich; and Studio Wayne McGregor, London. From Kate Prince watching Singin' in the Rain on VHS, to Akram Khan on Michael Jackson's Thriller, and Wayne McGregor on John Travolta in Saturday Night Fever, the interviews give a unique and fascinating personal insight into the minds of some of the greatest choreographic talents.
Each My Dance DNA is split into a 45 minute interview followed by 15 minutes of audience Q&A. After a short introduction and a quick-fire round of questions about the choreographer's earliest experiences of dance, the heart of each discussion includes clips of dance on film which have had a great impact on the choreographer's career. Half the clips are the choreographer's own work, half are external influences, and together they cover the span of the choreographer's working life.
My Dance DNA is part of Dance Umbrella's ongoing aim to reach new audiences by taking dance farther afield to new and surprising places. The talks will be available to view online:
danceumbrella.co.uk/mydancedna/
www.youtube.com/user/danceumbrellauk