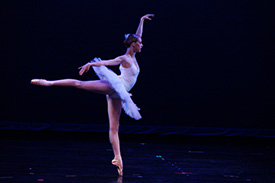 Ballet Theatre of Queensland saw in its 80th anniversary year in 2017 with a production of Cinderella in January. Directed and choreographed by the company's artistic director, Tim Brown, it was held at the Queensland Performing Arts Centre. At the time it was the latest production for the youth dance company, which offers professionally staged performance opportunities for talented young Queensland dancers. 
Now in its 81st year, Ballet Theatre of Queensland is Australia's oldest ballet company, pre-dating both the Australian Ballet and Queensland Ballet. It has no government funding, so its productions rely on the creative and production teams overseen by executive director Denise Richardson.
The company was founded in 1937 by Phyllis May Danaher (MBE, the founding president of the Queensland branch of the Australasian Operatic Dancing Society, later the Queensland Ballet Society). In 1953 the society established the Brisbane Ballet Theatre to provide professional standard performance opportunities to local dancers. The company was renamed Ballet Theatre of Queensland in 1963, with Danaher as its director, a role she served in until 1984.
From the 1970s to late 1980s Ballet Theatre of Queensland toured classical ballets extensively throughout South East Queensland, with dancers billeted by families of local dance schools. Past productions include Les Sylphides, Pinocchio, Paquita, Sylvia, The Nutcracker, Peter and the Wolf, Beauty and the Beast, Snow White, The Wizard of Oz, Peter Pan, Aladdin, Alice in Wonderland and The Little Mermaid.
Ballet Theatre of Queensland auditions annually for company members and stages ballets with two casts to provide dancers with the opportunity to perform in a variety of roles. The company also offers a costume and set hire service to ballet schools, high schools and youth performance companies along with two scholarships available to Ballet Theatre of Queensland dancers. Many dancers have moved on from the company to international performance careers and opportunities, a sure testament to the organisation.