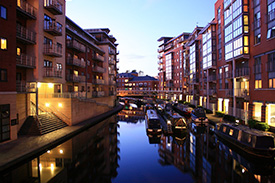 Dance Hub Birmingham has announced the dance practitioners and organisations who have been successful through the first round of its Developing Practice Grants and Artistic Commissions funding applications. Dance Hub Birmingham has invested in three artistic commissions, which will see new work created in Birmingham and the West Midlands, and confirms support for four dance practitioners as part of the Developing Practice programme.
Support has been confirmed for the following practitioners:
Iona Waite – the Grant will support Iona in developing her practice by attending the Ailey School for 10 days, and to attend The International Association of Blacks in Dance conference in the US.
Laura Vanhulle – will attend the 2018 Women in Dance Leadership conference in the US.
Adam Rutherford – the grant will fund choreographic mentoring support from Gary Clarke (Gary Clarke UK) and a dramaturg, as well as assisting Adam in developing LGBTQI choreography and dance.
Johnny Autin – Continual Professional Development and mentoring in outdoor arts festivals, including go and see opportunities.
Dance Hub Birmingham has also invested in three projects through the first round of Artistic Commissions:
Autin Dance Theatre: Queer Words (working title)
A bold, early stage, new collaboration between dance and spoken word artists, exploring themes of mental health, masculinity, and gender, created for diverse, urban and adult audiences.
Humanhood: Torus
The premiere of an ambitious new work from one of Birmingham's brightest new talents. Combining art, science and technology, Torus will see Humanhood move their work to a new ensemble scale from their established excellent solos and duets.
Sampad: About The Elephant
With co-commissioning support in place from Serendipity Arts India and Dance Hub partner mac Birmingham, Sampad will support and showcase Birmingham-born Vidya Patel and her fellow BBC Young Dancer grand finalist Connor Scott's first choreographic collaboration About The Elephant.
The Grants support those who would not otherwise have the opportunity to access professional development and experience work that will impact on their future practice as well as those with a willingness to share their learning across the dance sector. The next round of applications for both Developing Practice Grants and the Artists Commissions is now open until 22 February.