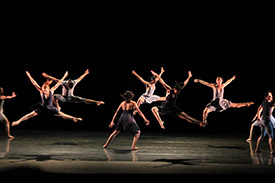 Joining a dance company is a dream for many vocational dance students, however it can be a tricky transition to make after years of training. There can be a lot of pressure to demonstrate your ability in your new job, as well as to embody the type of team member you aim to become.
It's important to remember that life will be much less structured than during your training, and it is up to each person to prioritise their time. Alongside class and rehearsals, it is vital to keep the body in top condition. As a student, often dancers can get away with ignoring aches and pains, but as a professional dancer, if something hurts, address it immediately. Take advantage of company perks, like nutritionists, physical therapists and gym memberships, to ensure you are in the best condition possible.
If you're learning repertoire rather than a new piece, it could be worthwhile to learn parts or all of the choreography in advance, so that you can focus on details with the choreographer or rehearsal director. Keep a notebook for choreography and corrections, or even film yourself rehearsing, then review your choreography at home. Being responsive and proactive will go a long way in helping you transition into the company.
That being said, don't worry about impressing everybody. It can be tempting to try to stand out to make sure that the director – and the rest of the company – can see your capability. In the first instance however, it's best to use the time to focus on becoming part of the group, and doing what's best for the company. Be aware of the shared understanding and unspoken rules within the company – such as where to stand at the barre – and don't be afraid to ask for feedback or help. It's how you adapt that tells directors how successful you will be within the company.