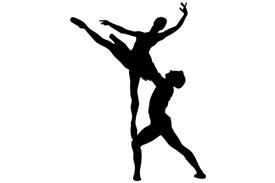 After three years with English National Ballet, Principal Cesar Corrales has decided to leave the Company and will join The Royal Ballet at the end of the 2017/2018 season.
Corrales joined English National Ballet as Artist of the Company in 2014. He was promoted to Junior Soloist in 2015, and to First Soloist in 2016. In July 2017, at just 20 years old, Corrales was promoted to Principal on stage at the Bunka Kaikan Theatre, Tokyo following his performance as Ali in Le Corsiare.
English National Ballet is renowned for its commitment to nurturing exceptionally talented dancers within the Company, dedicating time and resources to help develop them as artists. English National Ballet will continue to offer dancers the opportunity to work with the best artistic, creative and coaching teams in the world, so they can achieve their full potential. Corrales has taken full advantage of this, performing in a number of high profile roles and winning English National Ballet's Emerging Dancer award.
In his short time at English National Ballet Corrales has performed lead roles such as Ali in Le Corsaire, Nephew in Nutcracker, Mercutio in Romeo & Juliet, Albrecht in Giselle, and in Spring and Fall by John Neumeier, Fantastic Beings by Aszure Barton, and William Forsythe's In the middle, somewhat elevated. In 2016, Corrales collaborated with Akram Khan on the creation of the role of Hilarion for Khan's reimagined version of Giselle. He has both worked creatively and performed artistically, and it is hoped he will be presented with similar opportunities at The Royal Ballet.
Corrales will perform the lead role in Roland Petit's Le Jeune Homme et La Mort at the London Coliseum on 18 and 20 January, and will then leave English National Ballet at the end of the 2017/2018 season.