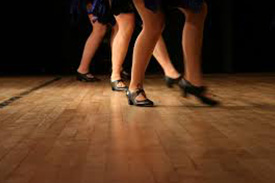 The Glenn Wood Tap technique is a dynamic tap dance syllabus that is both fun to teach and fun for students to learn; ability-based rather than age-based. Consisting of 14 levels from beginner to professional, Glenn Wood Tap – the syllabus, is both comprehensive and user friendly, designed for both teaching tap dance and evaluating tap dance. What sets it apart from other syllabi is that it is founded on solid technique, whilst being fluid, relaxed and enjoyable.
For some dance students, tap dancing can be picked up and dropped throughout their training, an addition instead of a focus. With the Glenn Wood Tap syllabus, it promotes a love and appreciation of tap dance. Dein Perry of Tap Dogs fame is a fan, advocating that Glenn Wood's dancers have the best footwork going, second-to-none. Each level contains a complete programme of tap dance containing individual steps, combinations, performance quality routines as well as barre activities and turning technique activities.
Glenn Wood wrote the syllabus after many years of teaching and adjudicating tap. He noticed that there was a need for a dynamic and exciting tap syllabus – that was based on technique and the classic tap of the past. After years of notes, tapping away and teaching young dancers who have gone on to both win local and international competitions, Glenn launched Glenn Wood Tap – The Syllabus in 2004. Retiring from teaching gave Glenn the time to focus on examining and creating new and dynamic choreography.
Glenn Wood Tap currently has seven examiners Australia-wide and conducts exams via video and the internet for international dancers. There are over 300 schools that teach the Glenn Wood Tap syllabus – with many of those studios competing in the annual Glenn Wood Tap Scholarship and participating in exams. Exams are encouraged but not compulsory, recommended once a year as an opportunity to assess student progress with the syllabus.