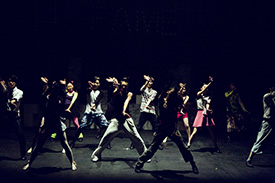 Sadler's Wells starts the new year with the return of the dance taster festival Sadler's Wells Sampled. It will feature world-class dance and a series of workshops and foyer activities, on Friday 2 & Saturday 3 February 2018. The festival gives audiences a chance to experience the broad range of dance presented at Sadler's Wells at affordable prices, with proms style standing tickets available for just £5, with all other tickets at £20. Following its London run, Sampled will then tour to The Lowry, Salford Quays as part of The Movement, a producing partnership for dance between Sadler's Wells, The Lowry and Birmingham Hippodrome.
A regular fixture at Sadler's Wells since 2007, Sampled features a wide variety of dance, from classical ballet to hip hop, contemporary and flamenco. The 2018 festival includes performances from the finalists of BBC Young Dancer 2017, showcasing the best of young British dance talent. Nafisah Baba, winner of the contemporary category and overall winner of the 2017 competition, presents Inescapable, a work created by her for last year's competition. Jodelle Douglas, winner of the street dance category from 2017, and Harry Barnes, the 2015 winner of the hip hop category and a category finalist for street dance in the 2017 competition, perform Mass Effect, a work choreographed by Douglas.
In addition to the performances, there will be activities held across the foyer spaces. On Friday, the events will be based around Brazilian dance and music, whilst on Saturday it will be themed around hip hop dance and culture. Saturday will also have a day full of workshops, including a hip hop class with Yeah Yellow, along with contemporary dance, flamenco and many more.
Following dates at Sadler's Wells, Dance:Sampled, the touring arm of Sadler's Wells Sampled festival, will go to The Lowry on Saturday 17 February with two performances at 2pm and 8pm. Supported by The Movement, this year's event celebrates both established and up-coming UK artists and companies. The evening will include performances from artists from Sadler's Wells Sampled, including Nafisah Baba, Humanhood and the evening's only international act, Jesús Carmona, along with additional companies performing especially for this event.