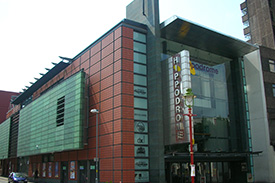 Planning has been approved for the new Dance Hub Birmingham development for the Birmingham Hippodrome campus, which will support its positioning as a leading international hub for dance. Designed by UK architect practice Austin-Smith:Lord, the New York-inspired rooftop extension will enable increased access for local artists and communities, developing the infrastructure for the vibrant and growing dance sector in Birmingham and the wider West Midlands region.
The Hippodrome campus, home to resident company Birmingham Royal Ballet and comprising the 1,850-seat Hippodrome Theatre and 200-seat Patrick Centre, DanceXchange and Dance Consortium, is the busiest venue for dance in the UK outside of London. The extension will create 675m² of new space for professional and community dancers, including a large dance rehearsal studio and office space.
The new space will blur the building's existing boundaries between public and private space, between studios dedicated to artists and those accessible to communities. Initial consultation carried out by Dance Hub Birmingham has found that artists would like space that welcomes people of different ages, backgrounds and ambitions, encourages them to rub shoulders and exchange ideas and experiences, and that joins up with other spaces across and beyond the city. Run by Culture Central, Dance Hub Birmingham has been working with the arts sector to put dance at the forefront of plans for the city.
As a collaborative space, it will also provide an acceleration for the West Midlands' reputation as an international leader in the most inclusive of art forms. It is an ambitious facility and looks to be a great addition to the region's thriving cultural offer. The new development is funded through strategic investment from Arts Council England. Work will commence in Spring 2018 with completion in Spring 2019.