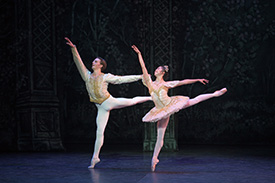 It was recently announced that Joseph Caley – a new joiner of the company – is set to be promoted to Lead Principal of English National Ballet. Joining Caley backstage following his performance as the Nephew in Nutcracker at the London Coliseum, Tamara Rojo CBE, Artistic Director of English National Ballet, announced his promotion in front of the company on 13 December.
English National Ballet's Nutcracker is a production which showcases both the male and female leads equally, as a result of the plot. In addition to performing in Nutcracker as the Nephew, Caley has made an extensive contribution to English National Ballet in the few months since he joined, performing a variety of lead roles including James in La Sylphide, The Man in Song of the Earth, and Romeo in Nureyev's Romeo & Juliet. His promotion is in recognition of the talent and professionalism he has demonstrated since joining the company earlier this year, and there is no doubt he will continue to delight audiences throughout the upcoming season.
Born in Hull, Caley trained at the Royal Ballet School. He joined Birmingham Royal Ballet in 2005, and was promoted to Principal in 2011. He joined English National Ballet as Principal at the start of the 2017/2018 season. As a student, he was awarded medals in the Young British Dancer, the Genée International Ballet Competition, and won a scholarship at the Prix de Lausanne.
Caley recently performed in Opening the New as part of Hull UK City of Culture 2017. He has been a guest artist with The Australian Ballet and with Star Dancer Ballet in Japan with Miyako Yoshida. With English National Ballet, Caley performs in Nutcracker, Song of the Earth, La Sylphide, and Le Jeunne Homme et la Mort at the London Coliseum this winter. Caley's promotion takes effect from 20 January 2018.