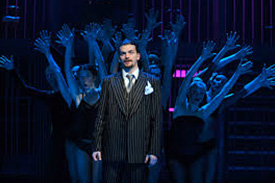 The world's longest running American musical, the multi award-winning CHICAGO, returns to London's West End after a five year absence. Following a successful UK and international tour, CHICAGO will be transferring to London, with performances at the Phoenix Theatre from Monday 26 March 2018.
Barry Weissler, who, along with his wife Fran, has produced the show in New York, London and around the world, celebrated the production's 21st anniversary this year, marking its most successful year to date. CHICAGO is as relevant and timely today as the day the musical opened, having spent several years touring throughout the UK. CHICAGO is based on the play by Maurine Dallas Watkins, and has a book by Fred Ebb and Bob Fosse, music by John Kander and lyrics by Fred Ebb. The 1996 Broadway revival of CHICAGO was choreographed by Ann Reinking in the style of Bob Fosse, directed by Walter Bobbie, and produced by Barry and Fran Weissler.
CHICAGO originally ran in London for 15 years, making it the West End's longest running revival. It opened at the Adelphi Theatre on 18 November 1997 to rave reviews and immediately became a sell-out hit. CHICAGO won the 1998 Laurence Olivier Award for 'Outstanding Musical Production' as well as the 1998 Critics Circle Drama Award for 'Best Musical'. CHICAGO transferred from the Adelphi Theatre to the Cambridge Theatre in April 2006, where it ran for five years until 27 August 2011. The show then opened at the Garrick Theatre on 7 November 2011, where it ran until 1 September 2012.
Since it opened in New York in 1996, CHICAGO has played in 36 countries worldwide, and been performed in English, Dutch, German, Swedish, Spanish, Portuguese, Russian, Italian, French, Danish, Japanese and Korean. It has grossed over $1.5 billion and has played over 30,000 performances worldwide, with an estimated 31 million people around the world having seen CHICAGO. CHICAGO continues to play on Broadway, where it recently celebrated its 21st birthday, and around the world in multiple languages.
Casting for CHICAGO at the Phoenix Theatre, London is to be announced. The show is currently booking until 30 June 2018