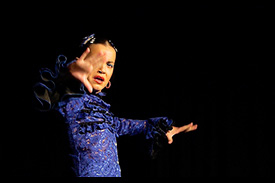 The Peña Flamenca de Londres, London's friendly flamenco club, has this year welcomed Flamencos del Sur, a group of top-class performers travelling directly from Granada. Sunday 10 December saw the group present its 'puro flamenco', a super-charged gypsy style that is a far cry from choreographed ballet flamenco. Flamencos del Sur was born from Jingle, the well-known British flamenco guitarist who has been based in Spain for many years.
Rising star dancer Sara Sánchez performed as part of the group, returning to The Peña Flamenca de Londres as part of this special show. At only 13 years old, Sánchez was born in Motril and started dancing at the age of five at the prestigious Escuela de Baile de Mariquilla. Her principal teachers in recent years have been gypsy style dancers Raquel Heredia 'La Repompilla' and Juan Manuel Fernández Montoya 'Farruquito'. She has also trained at La Escuela de Arte de Ángel Bermúdez, with dancer Mercedes Martín, and has also studied with luminaries of flamenco dance such as Manuel Liñán, Manuela Carrasco, Pastora Galván, Juan Andrés Maya, Carmela Greco and Antonio Canales.
Joining Sánchez on stage was experienced dancer, teacher, and choreographer Joaquín Ruíz. Beginning his career with companies such as Ballet of the Teatro de la Zarzuela, Rafael de Córdoba, Ballet Siluetas de José Antonio, Rafael Aguilar, and Compañía Mario Maya, he has also appeared with Carmen Cortés and la Tati.
Two artists whose families have been living and breathing flamenco for generations were also part of the production. Singer Raúl 'El Mikey', started as a member of Los Colorados, a group of singers consisting of family members, and has worked with dance stars such as Antonio Canales, Joaquín Cortés, and Sara Baras. Lead guitarist Niño Carmelo started studying at the age of three, inspired by his guitarist father, and has worked with singer Montse Cortés, and star dancers Juan de Juan and Marina Heredia.