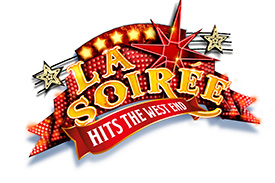 La Soirée, in its upgraded home of Aldwych Theatre, is a heady mixture of nonsensical comedy and jaw-dropping feats of strength and flexibility. Like any show of this kind, it is a revelation to present such an eclectic mix of characters as part of the performance, making up a hugely talented company.
La Soirée has previously been seen on London's Southbank, within the drapes of a Spiegeltent as part of its summer programme of performances south of the river. The show's roots take the form of an after-hours club at the Edinburgh Fringe, through to headlining the circus field at Glastonbury Festival, and to all four corners of the globe too. Now north of the river and included within London's West End offering, La Soirée boasts an increased feeling of glamour and luxury in the theatre. The space remains intimate and compliments the edge-of-your-seat action, which is hugely varied.
The show is billed as theatrical phenomenon, a unique and inspirational night of live entertainment, in a mixture of of cabaret, new burlesque, circus sideshow and contemporary variety. 2017 marks the show's 8th Christmas season, celebrating performers that come from the fringes of the performing arts world across the globe. The show features an ever-changing line-up of some of the best acts in the world, and features guest appearances from acclaimed local and international artists.
The glamorous Amy G leads the way in terms of cabaret performances, with a cheeky taste for high drama. As a performer she has played in over 40 countries and seven languages, honing her intoxicating mix of virtuoso musical performances and stand-up comedy. Daredevil Chicken, a couple straight out of Vegas, are equally – and distastefully – charming too. Their raucous double act is full of 80s pop melodrama and slapstick comedy, delighting audiences left, right and centre.
The Chilly Brothers have to be seen to be believed, defying gravity and even physics as an entire concept. Hailing from the National Circus School of Montréal, the pair are mesmerising in the death-defying art of the Russian cradle. It is a surreal display of human strength and precision, alongside Lea Hinz's aerial hoop display, hair hanging, breathtaking hand to hand and more comedy to boot; La Soirée is not one to miss.