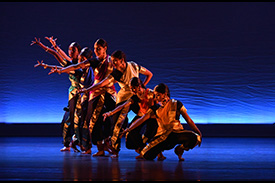 DanceEast is set to offer a vibrant line-up of performances and workshops at the Jerwood DanceHouse as part of its Spring season. Running from January through to May, the upcoming season demonstrates DanceEast's commitment to providing opportunities to support artists at every stage of their careers, as well as developing dance within the community.
Highlights of DanceEast's Spring season include Mark Bruce's Company's Macbeth, and a premiere from Didy Veldman's Umanoove. Commissioned by DanceEast, Umanoove will premiere The Knot, which will scrutinise the social and personal significance of marriage in modern Western society. Veldman is a former Rambert dancer and has worked with companies all over the world. The Knot follows Veldman's critically acclaimed The Happiness Project, which launched her company at DanceEast in 2016 to a sell-out audience.
March will see the multi-award winning Mark Bruce Company back in Ipswich again, and will present a striking dance theatre adaptation of Shakespeare's Macbeth; a tragic descent into the most sinister sides of human nature. This performance is highly theatrical and will see the return of Jonathan Goddard, who played the lead role in the company's sell-out performances of Dracula in 2014. Commissioned by DanceEast, the cast of nine are blindly consumed by ambition and address a beautifully harrowing vision of an internal wasteland.
The season will also present Tilted Productions, an Ipswich-based company, with a premiere of Constructions of Thin Air, an evolution of its past work, BELONGING(s). This performance will see nine performers merge contemporary dance, physical theatre and everyday objects to transform the stage into shifting architectural landscapes. DanceEast will also bring U.Dance 2018's East Regional Platform to the University of Bedfordshire with One Dance UK, celebrating youth dance and showcasing upcoming talent with a diverse range of dance styles.
Stopgap Dance Company will move audiences with The Enormous Room, and 2Faced Dance Company will present a magical journey through the night, perfect for little ones and their families, inspired by Hans Christian Andersen. Completing the season with his first full length theatre work will be Joseph Toonga, exploring his experience of fatherhood with Daughter, Daughter – Before I Met You.