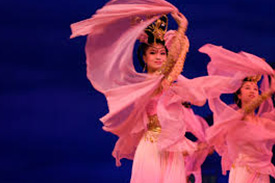 Nominations are now open for the Jane Attenborough One Dance UK Industry Award, which honours an individual working in dance who has made an outstanding contribution to the art form. The award aims to highlight the important, but often unacknowledged, contributions made by individuals who make a real difference to how dance is created, supported and seen.
The closing date for nominations is 15 January 2018, and the winner will be announced at the Critics' Circle National Dance Awards on 19 February 2018.
Nominees should be individuals who have gone above and beyond the call of duty to move dance forward and enable the art form to thrive. The person could be a dance manager, designer, teacher, healthcare practitioner, critic – anyone – who, through their knowledge, skill and generosity, has made a significant contribution to dance beyond the scope of their usual role. Those who have been nominated in previous years but have not won can be re-nominated.
Past winners of the Jane Attenborough Dance UK Industry Award include: Dick Matchett MBE (2003), Theresa Beattie (2004), Brendan Keaney (2005), Val Bourne CBE (2006), Celeste Dandeker OBE (2007), Janet Smith MBE (2008), Marie McCluskey MBE (2009), Gill Clarke (2010), David Burnie (2011), Jeanette Siddall CBE (2012), Amanda Chinn (2013), Frank Doran (2014), Tamara McLorg (2015), and Brenda Last (2016).
How to make a nomination:
Nominations should be sent to Joanne Whittaker, One Dance UK's Office and Membership Administrator, at joanne.whittaker@onedanceuk.org
Include the name of the person nominated, along with a statement of no more than 200 words explaining why this person should win the award, including your own name and contact details.
Please state where the person nominated is based and how he or she can be contacted.
The One Dance UK Industry Award is dedicated to, and named after, Jane Attenborough, who was the founding Director of Dance UK (now One Dance UK).