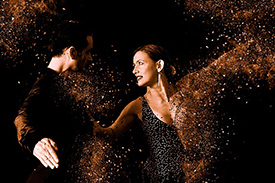 Germán Cornejo's Tango After Dark will receive its world premiere at London's The Peacock theatre, running from Wednesday 28 February – Saturday 17 March. International tango star Cornejo will be welcomed back to London with his company, widely acclaimed by critics and audiences all over the world as one of the most distinguished tango artists working today. His company is made up of a cast of 10 dancers, including his long term dance partner and collaborator Gisela Galeassi. 
As the night falls, the music of the great Argentine tango composer, bandoneon player and arranger, Astor Piazzolla, merges with the sophisticated and sensual performance of world-class Argentinean dancers to reveal tango in its most authentic and pure form for Tango After Dark. Accompanied by two singers and seven musicians playing tango classics, Tango After Dark keeps the passion of tango burning deep into the night.
Artistic director and choreographer Germán Cornejo is the choreographer and lead dancer of the international sensation Tango Fire, whose smash hit show Flames of Desire won Best Theatre Production in the 2015 UK Latin Awards. Cornejo and his dance partner Galeassi are both World Tango Champions and are widely known for their performances with Jennifer Lopez and Marc Antony. Both dancers feature in the Sadler's Wells contemporary tango production m¡longa by Sidi Larbi Cherkaoui, which continues to tour internationally.
The work of Cornejo has delighted audiences all over the world, and is now returning to London with what will be another spectacular production. The pair are iconic artists in their own right, and together – alongside the additional company members – they are a fiery mix of precise tango steps and passionate energy.