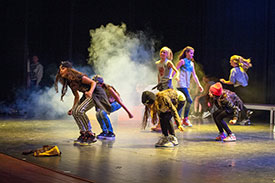 The local council in Plymouth is supporting a feasibility study for transforming the local Street Factory studio into a hip hop education centre for hard-to-reach young people. Local businesses and architects are also involved in the project, which will see a theatre, community cafe, recording studio, dance studio, and teaching space created in the ex-industrial building, the first of its kind in the UK.
Launched as the Street Factory project, those behind the plan must raise £2million in time for Mayflower 400, if Plymouth is to have its own hip hop theatre. A husband and wife team runs Street Factory CIC, and plan to transform the former industrial space around the five elements of hip hop: respect, peace, love, unity, and having fun. They aim to revamp the building – which has previously been a brewery, garage and food wholesalers – into a world-leading space for teaching the pillars of hip hop culture, including rapping, DJing, breakdancing, beatboxing and graffiti art, alongside other, more conventional, lessons too.
Street Factory is a social enterprise set up by Toby and Jo Gorniak in 2007. Their aim is to have the building, secured on a long lease, ready before the Mayflower 400 celebrations begin in the city in 2019 and 2020. Firms and professional bid-writers are already on board, so the project looks in good stead to achieve the couple's dream. It is an ambitious but admirable vision, with architects already devising designs for the building's revamp.
The redesign will include a theatre with stage and seating, community cafe, recording studio, dance studio, and teaching space for such subjects as creative writing and computing, however the shell of the building will remain untouched. Eight companies in total have donated at total of more than 400 hours – equivalent to £30,000 – to get the project off the ground.