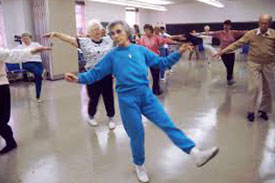 Inactivity among older people in deprived areas of the country is set to be tackled through a new £495k dance scheme that will help disguise physical activity as fun, tackling the issue with long term goals. The project therefore marks a change in strategy for its funder Sport England, which highlights how willing it is to consider how dance could tackle inactivity. Those within the sector appear to agree unanimously about the benefits of dance – particularly for older people – so part of this project is also extending that understanding to those external.
Led by One Dance UK, and delivered in partnership with development organisation Yorkshire Dance, the programme will take place in Leeds, Bradford and Doncaster and engage inactive people with fun, accessible and social dance activities for over 55s. Older people will play an active part in the programme as volunteers, advisors and champions, which aims to bring communities together to additionally reduce social isolation.
The project is supported through Sport England's Active Ageing fund, therefore representing a change in focus for the government body. The focus of the project has consequently shifted; being active is of the most utmost importance to maintain health and wellbeing, coincidentally now using dance to achieve this. Learnings from the project will be shared so successful approaches can be replicated across the country to encourage older adults to lead happier and heathier lives.
The project is part of a strategic collaboration to lobby Government about the effectiveness of dance on improving mental health and getting people active. Until last year Sports England mainly funded dance-exercise activities, but began considering how other types of dance activities could engage target audiences with the launch of its £245m Active Nation Strategy. This is definitely a step in the right direction.