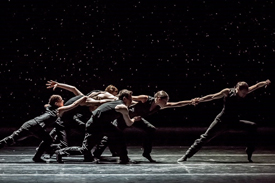 Dance Consortium, a group of 19 large-scale venues with a shared passion for bringing the best international contemporary dance to the UK, has announced the details of its next tour for spring 2018. Ballet British Columbia, Canada's leading contemporary dance company, kicks off its UK engagement at Sadler's Wells in London on Tuesday 6 March. The tour will then head to Brighton, Newcastle, Birmingham and Salford Quays and conclude in Bradford on Saturday 24 March.
As Canada's leading contemporary dance company, the Vancouver-based company's will be carrying out its very first UK tour. It will present works by three of the world's most celebrated female choreographers; 16+ a room by Ballet BC's artistic director Emily Molnar; Solo Echo by Olivier award-winning Sadler's Wells Associate Artist Crystal Pite; and Bill by Tel Aviv-based Sharon Eyal
Founded in 1986, Ballet British Columbia has been under the artistic directorship of Emily Molnar since 2009. Its 18-strong dancer-workforce is an internationally acclaimed collaborative and creation-based contemporary ballet company that is a leader and resource in the creation, production and education of contemporary dance in Canada.
Molnar's 16+ a room is inspired by the work of Virginia Woolf, Jeannette Winterson and Emily Dickinson. Sparked with explosive, fast-paced choreography that pushes the dancers to their athletic and technical limits, 16+ a room displays Molnar's unique choreographic language through a complex study of time, transition and stillness.
Vancouver-born Crystal Pite is a former dancer with Ballet British Columbia. Pite made her choreographic debut with the company in 1990 with Between the Bliss and Me. The success of the work allowed Pite to create additional pieces for Ballet British Columbia and since then she has created over 40 works for some of the world's top dance companies.
Inspired by two sonatas for cello and piano by Brahms and the poem 'Lines for Winter'by Mark Strand, Pite's Solo Echo portrays a man coming to terms with himself at the end of his life as the choreographer explores recurring themes of acceptance and loss.
The Company presents a diverse repertoire of Canadian and international work from the late 20th and early 21st centuries, and is a catalyst for the creation and performance of new works.