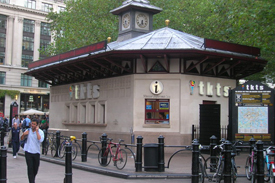 The Society of London Theatre's TKTS ticket booth in Leicester Square could be revamped as a two-storey structure featuring a café and a roof-top performance space, if plans submitted to Westminster City Council are successful. Known as the central hub for discounted theatre tickets, the ticket booth in London's Leicester Square could be radically re-designed, and even include a performance space too to add to the versatility of the building.
The aim would be to demolish the current ticket office operated by the Society of London Theatre and replace it with a new two-storey structure. This contemporary design would allow the building to maintain its current purpose as a ticket office selling reduced price tickets to West End shows, but the designs would mean it would also have an upper floor that could be used as a cafe or restaurant. Under designs submitted to the council by Moxon Architects, the roof-top terrace would function as a performance space, and would allow overhead coverage of red carpet events at the cinemas in Leicester Square.
The current building is a one-storey hut, which was built in 1980. Developing it in such a way would present exciting regeneration for the area and develop the building's purpose even more, remaining in line with how the current building sits within the theatre industry. The location itself of Leicester Square is internationally recognised in terms of central London landmarks, and the new designs would alter the building significantly.
The new design, which features twisting bronze columns, will also satisfy ventilation requirements for a major underground substation. To this end, the building would serve the theatrical industry well in terms of developing its offering for the general public, but it would also provide locational services for other activity taking place around it.