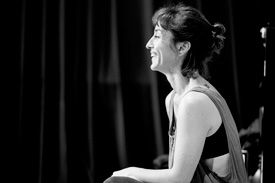 Award-winning Israeli choreographer Hagit Yakira founded Hagit Yakira Dance in 2007 and has since gone on to tour the UK, Europe, Scandinavia and Israel. Hagit Yakira Dance Company creates work whereby human experiences, movement and dance are uniquely and poetically interwoven into an individual interpretation of relationships and emotions through dance and performance.
Hagit has toured in numerous festivals and dance platforms. She has also been choreographing for different companies and institutions around Europe and the UK, as well as leading performance projects and workshops for both professional dancers and the community. Hagit is a teacher and a guest choreographer at Northern School of Contemporary Dance, Trinity Laban and The Place, and since summer 2011 she has been delivering workshops at ImPulsTanz, Vienna. Recently Hagit has been choreographing and teaching in Norway, and has been invited to collaborate with the Stavanger University to develop their renewed dance programme.
Audiences engage with the work because of its empathic nature that draws out the feelings and emotion in the dancers that are identifiable to all. Her warm approach enables her to talk to people through her work in a way that is compassionate and relevant to a wide age range from diverse backgrounds. Her approach in general, as well as to the movement research, is based on autobiography, and different physical exploration of emotions; she is being informed by her background as a dance movement therapist alongside her background as a performer and a choreographer.
Hagit Yakira Dance is back on tour this Autumn, with a reworked evening of Free Falling – a double bill. With a new dancer and a new collaborator, along with new costumes, this will be an exciting display for dance fans. A short film will be shown about the work, on each of the tour dates:
2017:
Thu 19 Oct – Phoenix Exeter, Exeter
Tue 28 Nov -The Arts Centre, Edge hill University
2018:
Wed 28 Mar – JW3, London
Fri 4 May – Swindon Dance, Swindon
Thu 10 May & Fri 11 May – Dance4, Nottingham
Have you always wanted to be involved in dance?
In some ways yes, I always wanted to do something with dance – but it was quite abstract; I mean I wasn't sure what it is that I wanted to do with it. This is why I tried different things until my early 30s when I realised I wanted to focus on choreography. Before that I worked as a dancer, teacher, dance movement therapist – constantly changing my focus and interest – but always (or at least mainly) in relation to dance and movement.
Where did you train, and what was it like?
I trained in Israel (mostly) and then a bit in Paris, New York and then here in London. It was… well it was many different things. It was fun and a struggle, it was emotional and confusing. At some point it was quite isolating. In some ways it was never fully satisfactory and therefore I kept learning other things along the way – like dance movement therapy, acting, music and so on. I kept missing social input in my training. I felt it was mostly detached from the world, from society, from those in need. I therefore went to study dance movement therapy. I felt I had to make something else through dance and movement, rather than to be busy only with one-self, aesthetic and form. I missed connectivity and humanity. And I had to look for other things to be engaged with in order to find it.
Describe a day in your life.
Ah! I have two different kinds of days – some which are extremely busy – mentally and physically – from morning until evening. And the second kind – which happens rarely, when I do absolutely nothing – I call these days 'recovery days' where I surround myself with friends, food, movies, culture, warmth – things that help me to regain my strength, energy, and creativity.
What has been the defining moment of your career?
I think there are two – and they are both equally important but for different reasons.
The first is the day I decided not to perform in my work but to choreograph only. This moment enabled me to focus on the thing I like the most – to choreograph – and to be able to fully engage with it. The second is when a very important person to me told me that I have to own my strengths as a choreographer. That I have to fully acknowledge them and then fully and uncompromisingly own them! This moment enabled me to be strong and really commit to my decisions.
What has been the most challenging?
The day I realised my integrity, aesthetics and beliefs are the most important to me.
What's the most rewarding thing about dance?
The most rewarding thing about dance is the fact that dance constantly challenges one's comfort zone, one's physicality and mental blockages. If one 'does' dance fully – there is a promise that there will be a constant personal development – mentally, physically and intellectually.
What's the worst thing?
I would say that the worst thing is also the most rewarding thing. The fact that dance is always a challenge – and a challenge on so many levels – is the worst thing about it. Dance questions comfortability and this can be hard.
Do you have any pre-show rituals, when you're watching your own creations?
The ritual happens with the performers, on stage, while warming up just before the show. I play pop/blues/jazz/funk music – music that the performers and I love – very very loud – to make sure there is fire in the air – I make sure the performers connect to one another – and groove with one another so there is a really good and playful energy in the theatre and between the performers. I like to believe that this energy will then stay in the auditorium and create a warm welcome for the audience.
Who or what inspired you to create the new double bill?
This double bill is inspired by my work as a dance movement therapist in Israel many years ago. During those years I met some fascinating people who had truly complex anxieties. The processes of recovery – the ones we went through in the therapy room – were so strong for me that I wanted to capture some of these moments. I didn't want to tell the stories of these people, nor did I want to tell the recovery stories they went through, but rather to capture humanistic elements in these processes.
What can audiences expect from the work?
They should expect an emotional, poetic, honest, and humanistic evening.
What is your advice to an aspiring dance artist?
Humbleness, honesty and openness. I would advise her/him to think truth-process-exploration rather than size. And to know that 'big' doesn't mean big in production but in mind.
What's next for you?
I am now planning my next production which will take place next year. I do that alongside choreographing for different companies and dance schools. I just finished a commission work with Transition Dance Company at Trinity Laban. I will be soon be traveling to Norway to work in the University of Stavanger and to create a new work on the final year students. I will be also traveling to Italy to create a new work there, and I am about to finish my PhD thesis. So kind of full on, but with truly exciting things!