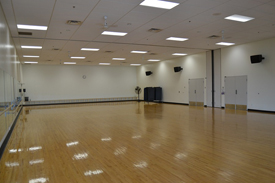 Running from 6 – 12 November, Rambert is opening the doors of its Southbank home to host Rambert Revealed. 2017 marks the fifth annual programme of public events, performances, tours and workshops for members of the public, dance professionals and students, with new additions for this year's programme.
A month-long residency from ERRATICA will develop the prototype for an interactive dance film installation titled For Amusement Purposes Only. Visitors are invited to play with the prototype, consisting of a vintage pinball machine that generates dance videos with movement created and performed by Rambert's dancers. The programme also sees the launch of The Playground, a new monthly networking platform. The Playground is for performers and creatives interested in exploring new ideas to come together at Rambert's studios to share, develop, discuss and dance in a creative space.
Rambert Live will return for its third year, giving exclusive behind the scenes access to the dancers' daily class, rehearsals of new work in the making, a cross-industry discussion about dance in schools and live studio performances in the evening. The livestream will be shown on the Rambert website and Facebook page and will be available to watch online afterwards. The addition of this event into Rambert Revealed demonstrates how much activity takes place in the building, and how easy it is to take part.
Rambert will also be working with the next generation of dance professionals with its experience days and Q&As. For 2017, it will concentrate on encouraging participation in dance across the country, and discussing the future for dance in schools with regards to declining numbers of students taking GCSE and A Level arts subjects. This will be the latest in Rambert's series of debates, in which a panel will discuss the future of dance in schools. It will also be available to watch live online as part of Rambert Live.