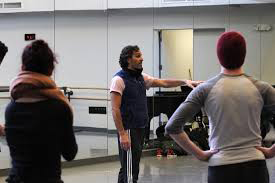 One Dance UK has announced its selection of candidates for its Scottish Dance Artists Mentoring and Choreographers Observership Programmes for the 2017-18 period, organised in partnership with Creative Scotland. The two programmes have been created to help artists and choreographers further their careers in dance.
Following a peers' identification, nomination and an application process, three dance artists and two choreographers were selected to take part. One Dance UK organised and chaired a selection panel of dance industry leaders. The selected dance artists and choreographers range from independent artists and young entrepreneurs, to national dance company members who, through these programmes, will benefit from the wisdom, experience and industry insights of a mentor.
Funded by National Lottery through Creative Scotland's Open Project Fund, these programmes recognise the huge importance of supporting the next generation of leading dance artists and the need for choreographers to learn from and support each other.
Scottish Dance Artists Mentoring Programme:
Established in 2007, One Dance UK's Dance Artists Mentoring Programme offers dance artists the opportunity to develop as leaders in and beyond their performing careers.
The dance artists selected to be mentored this year are:
Mele Broomes and Vince Virr from Glasgow, and Gemma Connell from Montrose
Scottish Choreographers Observership Programme:
One Dance UK's Scottish Choreographers Observership Programme responds to demand from choreographers for opportunities to observe other artists at work, either to initiate new areas of work (for example in commercials, theatre or opera), or to learn from another artist's creative practice.
The choreographers selected to take part this year are:
Giulia Montalbano from Dundee and Malcolm Sutherland from Dunblane
Giulia and Malcolm will be observing two choreographers at work, both of which will be announced in the near future.
Combining more than 100 years of expertise in a simplified, strengthened and specialist organisation, One Dance UK nurtures and develops talent and delivers excellence across the dance sector, notably in education and youth dance; dance of the African diaspora; dancers' health, wellbeing and performance; and dance management, leadership, and career development.