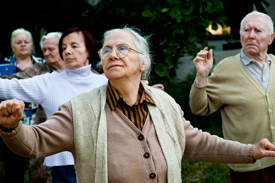 As part of its Dance in Health & Wellbeing partnership with People Dancing, One Dance UK has been successful in receiving National Lottery funding from Sport England Active Ageing for a dance programme to tackle inactivity in areas of Leeds, Bradford and Doncaster over the next three years, working closely with Yorkshire Dance, the region's dance development organisation.
The funding will support the development, implementation and evaluation of a Dance Activator programme; delivering a wide and varied dance offer to engage inactive older people in disadvantaged areas to improve their activity levels and wider health and wellbeing. Dance Activators will work in a local community, building relationships with older people and partner organisations to engage inactive people from deprived communities in fun, accessible and social dance programmes. The programme may include regular social dance sessions such as jive, latin or ballroom dance plus creative/contemporary dance approaches.
The programme aims to engage inactive older people in physical activity disguised in fun, social dance activity. It therefore has the potential to engage people who are not motivated by health or fitness. The aim is to build sustainability throughout the programme; establishing self-funded dance programmes where communities have the capacity to build partnerships, and gain buy-in from public and voluntary sector partners to support ongoing activity in the most socio-economically disadvantaged areas.
One Dance UK and People Dancing launched the Dance in Health & Wellbeing initiative in March 2017 to strengthen the role that dance plays in improving the health and wellbeing of the nation. Similar initiatives have proven successful including YDance Active in Scotland. Dance will not only get more people active but research shows that it addresses a wide range of health and social issues, and making dance more widely available is an effective way of addressing a number of big issues for government – health inequities, obesity, mental health and inactivity.