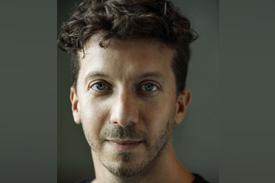 Gianluca has performed, taught and directed dance throughout the UK, Europe, Asia and USA since 1997. Originally from Italy, Gianluca trained at the National Academy of Dance in Rome, Biennale Danza, Venice and Transitions Dance Company at Trinity Laban. Performance credits include: Henri Oguike, IJAD Dance Company, Efrosini Protopapa's Lapsus Corpi, himherandit productions and Iceland Dance Company.
Gianluca has been the Artistic Director of VERVE from 2011-2016 and the Head of Professional Development from 2014-2016 at Northern School of Contemporary Dance in Leeds. Under his direction the company worked with many of Europe's leading international choreographers such as Lea Anderson, Anton Lachky, Akram Khan, Kerry Nicholls and Ben Wright as well as Theo Clinkard, Luca Silvestrini and Efrosini Protopapa, and toured extensively throughout Europe.
Gianluca is currently working on a show for the next season in the Lilian Baylis Studio, A Wild Card, on Thursday 23 and Friday 24 November. For this, Gianluca showcases work from dance makers based in the North of England, and introduces London to his company Möbius Dance.
Have always wanted to be involved in dance?
I was exposed to dance at age six, when my parents encouraged me to start taking ballroom classes. My first contemporary class was at age 14 when I joined the local dance school, after watching my cousin's end of the year show.
Where did you train, and what was it like?
I was determined to audition for the Accademia Nazionale di Danza in Rome so I joined my local dance school at age 14. Whilst training at the National Academy I realised that contemporary was my passion and that perhaps I needed to be in a different environment. So I decided to audition for La Biennale of Venice, which at the time was directed by Carolyn Carlson. Successfully completing three solid days of auditions, I began training with incredible choreographers and teachers including Nigel Charnock, Susanne Linke, Benoît Lachambre, Vim Vandekeybus, Simona Bucci. The feeling of constantly being both nurtured and challenged during my time with them is very present in my practice today, both when working alone and with others. After that I joined Transitions Dance Company at Trinity Laban, where I gained a deeper understanding of the direction I wanted my career to head in.
Describe a day in your life now.
At the moment, every day is very different. I try my best to keep up with my professional practice, but I often find myself in front of the computer planning, creating and nurturing partnerships for myself or the artists I work with. I'm often sat on trains up and down the country, travelling to deliver workshops or creating new work for different institutions.
In your opinion, how important is ranging and diverse training in dance today?
I think it is crucial. I believe that dance, and especially contemporary dance, is a very inclusive art form. Being a performer these days means a lot of different things. Choreographers and companies are becoming more demanding. I know that as Artistic Director I look for performers that have an excellent technique, that can act, teach and express themselves – people that are open minded and hearted, willing to see 'challenge' as a creative impulse.
What has been the defining moment of your career?
It is difficult to say, as I believe that every course/position has contributed to my career development. I remember understanding I wanted to take more of a leading role whilst I was training with Transitions Dance Company at Trinity Laban. Becoming Rehearsal Director for Iceland Dance Company allowed the first part of that path to take shape. Gaining the position of Artistic Director for VERVE (the postgraduate company of Northern School of Contemporary Dance) initially and progressing to become the Head of Professional Development allowed me to develop it further.
What has been the most challenging?
It must be my first six months as Rehearsal Director for Iceland Dance Company. It was my first official experience in that kind of position; I was 24 years old. I remember feeling the pressure of directing dancers of an international touring company and assisting internationally renowned choreographers. During these first months I also had to take the role of a dancer as one of the cast members got injured at short notice before a premiere. It was a challenging period but it helped me find new strategies and develop my skills.
Who or what inspired you to form Möbius Dance?
Ah! I think the inspiration has slowly built over the years. If I look back I think I will need to thank Katrín Hall first, (the former Artistic Director of Iceland Dance Company (ID), now Artistic Director of Göteborgs Operans Danskompani). Katrín gave me the chance to become Rehearsal Director for ID early in my career, believing in me as a young leader. I learned a lot from her! The other inspirations have been all the company members I have witnessed grow whilst leading VERVE for five years. Seeing them develop as artists and move audiences has no price!
What can audiences expect from the Lilian Baylis Studio programme?
The mixed bill format makes it particularly suitable for new dance audiences, whilst the high standard of the performance and choreography will delight regular dance attenders. Jamaal Burkmar's The Calm is a physical and "feel good" work that takes memories about home and family to create an abstract piece rooted in neo-soul music and movement. The work was originally commissioned by New Adventures as part of the New Adventures Choreographer Award Showcase. Carlos Pons Guerra presents O Maria: A Divine Comedy of Ham and Bondage, a Spanish kitschy, kitchen drama where a heavenly apparition unleashes a torrent of unquenchable passions for an oddly paired couple. Crystal Zillwood presents Evolutio, an articulate and thoughtful solo which suggests an expansive vision within a miniature work. Evolutio combines an athletic, fluid movement style with clear musicality. I also will present a short dance film and a structured improvisation created together with freelance artists based in Leeds: musician Otis Jones, artist Ben Skinner and performers Stefania Pinato and Amarnah Amuludun.
Describe it in three words!
Theatrical – Passionate – Entertaining
What is your advice to an aspiring dance artist?
Follow your passion. Keep your heart open, stay humble, keep working hard at it, and remember… we are humans seeking connections.
What's next for you?
I am delighted to have been awarded Arts Council funding for the creation of new works by two experienced female choreographers together with three emerging performers based in the North of England. So I am in the process of curating the programme, auditioning performers and working on the logistics with a lot of partners including Leeds Dance Partnership, Northern Ballet, Phoenix Dance Theatre, Northern School of Contemporary Dance, Yorkshire Dance, Leeds Beckett University, Moving Art Management, Barnsley Civic and Sadler's Wells.
Photographer: Danilo Moroni