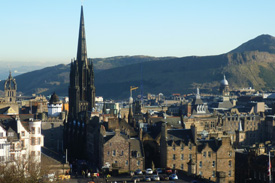 Edinburgh's Christmas and Spiegeltent International Productions present La Clique Noël, the international hit which will return to the Scottish city with a new show as part of Edinburgh's Christmas for 2017.
La Clique Noël will be the headline show, the outrageous theatrical phenomenon with its trademark mix of cabaret, new burlesque, circus and contemporary vaudeville in a new show. Running from 17 November 2017 – 6 January 2018, it will be part of Edinburgh's Christmas programme of events, produced by Underbelly.
Born out of the Edinburgh Festival Fringe in 2004 by David Bates, owner and producer of The Famous Spiegeltent, La Clique has gone on to global acclaim and sell out audiences across the world, including Sydney, New York, Montreal, Brighton, Adelaide, London and Edinburgh. La Clique returns home to the scene of the crime – Edinburgh – for a very special seasonal treat; La Clique Noël.
With its collection of extraordinary new artists and don't-miss favourites, the show will feature a live band and the best of the best in genre-bending, New Variety entertainment from the subterranean world of circus, comedy, cabaret, variety, magic, burlesque and subversive performance clubs. Previous much-loved acts have included boys in baths, twins in fish bowls, disappearing red hankies, blue rabbits, spinning Elvis and magic dragons. This special Christmas collection for Edinburgh will be no exception.
Edinburgh's Christmas is one of the most popular Christmas celebrations in the UK. 2017 will see the biggest, brightest and best programme of events and entertainment across the city centre to date. The recent expansion continued in 2017, allowing Edinburgh's Christmas to reach further audiences. This is the fifth year of Underbelly creating and delivering Edinburgh's Christmas on behalf of the City of Edinburgh Council, and in its four years of producing the event, Underbelly has grown the event to be one of the biggest and most diverse Christmas events in the UK.