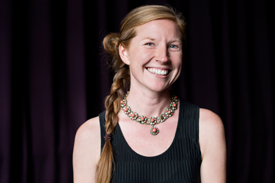 Charlotte Spencer works as a choreographer, occasional performer, facilitator and curator. She is a Sadler's Wells Summer University artist 2015-18 and an Artist Activator for Greenwich Dance. She has been commissioned by Greenwich Dance and Trinity Laban, Salisbury International Art Festival, Brighton & Hove Libraries, Jerwood Gallery, Turner Contemporary, Our Woods – Corby and Siobhan Davies Dance. She has made performance work with young people, older adults, community groups as well as professional artists.
Working across art forms, her work rises from the landscape and is often designed for outdoor public spaces. She hopes that it helps to re-engage people with place in the present moment through action and participation. Her new work – Is this a Waste Land? – is a performance through headphones for disused urban spaces, with performances in Spring 2017 and as part of this Autumn's Dance Umbrella.
Tell us about your involvement in Dance Umbrella 2017
I'm presenting my new choreographic work, Is this a Waste Land? [ITAWL?]. It's a performance through headphones for disused urban sites. As night falls, audience members follow a soundscape of instructions relayed over headphones, listening privately to their own sound world and acting with others to create a unique and shared experience. This interactive and absorbing experience invites us to re-imagine how we value our landscape, homes and communities.
There are six performers and we've designed the piece for up to 80 audience members to do together. It's kind of like choreographing for 80 performers whom you've never met, and the first rehearsal is also the performance. It's demanding and exhilarating at the same time!
We have been working on this project for almost three years now, so it is wonderful to see if finally being presented.
And where in London are you presenting it?
We are working on a remarkable site in Silvertown Quays which is sandwiched between London City Airport (yes, the planes really do go right overhead) and the iconic Millennium Mills – an impressive, now derelict old flour mill. In the distance looms the bright lights of the city of London.
Previously, my outdoor work was designed for public spaces like parks. ITAWL?embarks on utilising wasteland spaces that we have less access to. The common notion remains that wastelands are of no value until developed. Presenting the work on the very sites of change brings the themes of the project to the places where they are living.
Why do you choose to make work for non-theatre spaces?
I work in diverse and unusual places and spaces in order to open up new forms of conversation, to change where performances happen, and how choreographic work is both made and encountered. Through each artistic project I strive to build community by inviting people to re-encounter themselves through action and participation.
In 2013 I created Walking Stories – an intricately choreographed audio walk for parks. It marked an ambitious and bold new venture for me choreographically. Using head-phoned text and sound as a mechanism for mobilising audiences signaled a change in the format of presentation – away from traditional settings for 'dance performance' towards a new and refreshing performative practice.
My new project, Is this a Waste Land? launches itself from all the previous discoveries.
And how do you set about making work, where does it come from?
The starting point for this work began in 2013 during a cycle tour across England and France whilst making my previous work, Walking Stories. We stumbled across all kinds of spaces that usually get by-passed by motorways, railway routes and the general haste of life. As cities spilled out into countryside we crossed hinterlands, edgelands, dumps, waste disposal units, nothing-y places, in-between, left behind spaces. I was drawn to them. I started to imagine how it would be to create a performance for one such place. Somewhere that people don't normally go to.
Then I read Italo Calvino's Continuous Cities which is part of his book, Invisible Cities. Calvino conjures a vivid world of a spreading, sprawling metropolis surrounded by bands of waste piled higher and higher, meeting the mountain ranges of other cities' waste. Awaiting landslide and catastrophe. The more we have, the more we discard. I was reminded of the edgelands, the dumping grounds that we had passed as we cycled. I wanted to return there and bring people with me. What if we had a gathering in such an unlikely place?
The making of ITAWL? was as unusual as the first performances earlier this year in Corby and Glasgow. It included a residential intensive on the edge of an industrial forest in August 2016. The artistic team gradually built a camp and lived and worked for seven days without running water, power or any pre-made infrastructure. This was followed by two weeks working on an ex-industrial site in Corby. It was a fascinating, extraordinary and challenging journey. We literally lived the experience of occupying a space as we questioned ideas of land-use, access, commodification and value, and gradually created a temporary home for ourselves.
How have audiences responded to the piece so far?
Following five weeks of intensive rehearsals on a site in Corby – a town in the midlands – we had our first performances at the end of April. The site was a piece of land where a technical college used to be, right in the middle of the town – in between the cinema and the job centre. The building was demolished some years ago and since then, the land has been left empty.
I was really blown away by the responses of the audience. We had such a rich and varied group of people who came. It was beautiful and moving to hear people's stories and memories of this piece of land in earlier times. The teenagers who work in the cinema came, the people from the offices across the road came, the people who park their cars in the car park next to the site came. And then they told their friends and came back the next night. They didn't come because they're into art, or participatory performance, they came because we had gradually built relationships with the people and the place and somehow we had managed to let all those people know that this piece was for them.
Have you always wanted to be involved in dance?
Pretty much. There was a period of time when I was a child when I roamed between wanting to be an accountant and an astronaut (basically I really liked maths and I liked looking at the stars). I wondered if I would be a good enough runner to become an elite athlete, but to be honest, I didn't ever want to go to training after school, so that answered that. Dancing was the thing that stuck all the way through. Mostly it was because I liked the music, the rhythm and the jumping.
Where did you train, and what was it like?
I did my three year training at London Contemporary Dance School. It was a very intensive time – moving to London, figuring out a few things about life and confronting all of yourself everyday in the studio. I was quite a serious, nervous, under-confident student. When I could get through the barriers (mostly in my head), I found great liberation and confidence in dancing. It's a bit like a drug – it feels so good! You keep coming back for more. I had wonderful dedicated teachers, I made deep friendships, I discovered squat parties and raving. It was the first time in my life that I felt like I belonged. I don't often go to The Place anymore, but it still feels like family somehow – a second home.
What has been the defining moment of your dance career?
I think there are two that stand out: The moment when I failed my RAD Elementary Ballet exam for the second time and didn't want to go back to dancing. My ballet teacher came round to my house and told me she thought I should audition for full time training at a contemporary dance school. I thought she was mad. But if she hadn't sat me down and said that, I don't think I would ever have contemplated applying. I was 15 or 16.
The year I spent in Limerick with Daghdha Dance Company 2007-8. I figured out a lot about my artistic/choreographic interests and practice in that year and the rest spills from then.
What are you most looking forward to about the festival?
Sharing our work with more people. Seeing what new conversations unfold from that. Being with all my wonderful collaborators again – we haven't been together since Glasgow which was five months ago.
What's next for you?
Good question! I have thoughts about making a book and an album, an installation and a smaller show for three performers. I want ITAWL? to tour more. My husband and I are also in the process of buying some land to build a house. I think that will be the next big adventure.
Is this a Waste Land?, part of Dance Umbrella, runs at Silvertown Quays (Opposite Pontoon Dock DLR) Friday 13 – Sunday 15 & Friday 20 – Sunday 22 October 2017. www.danceumbrella.co.uk/