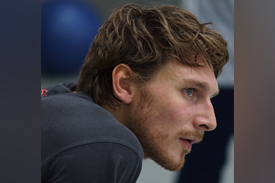 Hailing from Somerset, Ed was a Royal Ballet Senior Associate before continuing his studies at Elmhurst Ballet School. He graduated from Rambert School of Ballet and Contemporary Dance in 2010. During his final year he featured in Rambert's production of A Linha Curva by acclaimed Israeli choreographer Itzik Galili, which toured throughout the UK and he also appeared in BalletBoyz: The Next Generation for More4. Ed is one of the directors of the BalletBoyz Dancer's Course and this is his seventh season with the company.
Fourteen Days is made up of four new dance pieces created in 14 days, presenting the world premiere at Sadler's Wells from 10 – 14 October. The work has been created by four internationally celebrated choreographers, alongside four eminent and completely different composers. Choreographers Javier De Frutos (London Road), Craig Revel Horwood (West Side Story, Sunset Boulevard), Iván Pérez (Young Men) and Christopher Wheeldon (An American in Paris) have teamed up with composers, with each pair given just fourteen days to work with the ensemble to create the new pieces. Playing with the concept of balance and imbalance, the result is an exciting and varied programme of dance and music in BalletBoyz's inimitable style, performed live musicians.
The production will tour to Cambridge, Chester, London, Edinburgh, Dundee, Exeter, Lichfield, Guildford, Bath, Brighton and Richmond.
Have always wanted to be on stage?
Yes. I've ways wanted to be on stage from a young age. It was music initially that inspired me to dance; my parents always speak of me dancing around to Top of the Pops in the living room.
Where did you train, and what was it like?
First I trained at Elmhurst School for Dance which I found rigorous but invaluable in my formative years. I then went on to train at Rambert from 18. This I found different to Elmhurst but it helped me discover a more rounded way of dancing.
Describe a day in your life.
A typical day for me would include, a short Yoga practice in the morning before morning class. Morning class is my favourite time of the day, I've always loved technique class and each session is varied. Then we rehearse throughout the day until 6pm which can range from show rehearsals to repertoire work. If we have a show, we will start slightly later, run through the show and then perform in the evening.
What has been the defining moment of your career?
Three weeks before I graduated from Rambert I was worried about being unemployed in London, which is always a worry for professional dancers, but I attended an open audition for the BalletBoyz company and their new tour which I was successful in gaining a place on. From this point on I have had many great experiences with the company, performing nationally and internationally. My favourite part of the job is touring to interesting places I wouldn't ordinarily have visited.
What has been the most challenging?
For me the most challenging part of the job is continued motivation, it's an elusive thing, sometimes its there, sometimes it isn't, and even after all this time I can't put my finger on what it is.
What's the most rewarding thing about dance in general?
The most rewarding thing is that this doesn't feel like a job for me. My hobby has become my career and I'm now being paid to do something that I love.
What are you most looking forward to about performing Fourteen Days?
I love the variety of the pieces, no two are the same. The show allows me to explore different aspects of my artistry. The process of working with each choreographer for only fourteen days was intense but ultimately rewarding. It is very different from anything that we have done before.
What are you enjoying most about the rehearsal process? Have you worked in this way
before?
Usually we are so focused on one or two pieces as its usually a double bill, but as it is five pieces this year, I am never bored in rehearsals, and each day brings up something new.
Do you have any pre-show rituals?
I wouldn't say I have any rituals but I do have an order in which I like to get ready and prepare for the performance.
What is your advice to an aspiring dancer?
Try and watch dancers that you think are amazing as much as possible. If I'm ever feeling uninspired, watching favourite pieces or dances help me regain my focus.
What's next for the company?
We're touring with fourteen days in the UK this Autumn which I'm very excited for, we're visiting a range of venues around the country, all before Christmas, so a busy few months ahead!