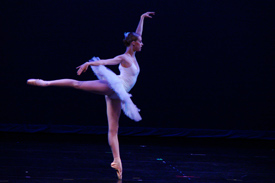 Applications are currently open for the 2018 Prix de Lausanne, one of the world's most prestigious international ballet competition, held annually in Switzerland. Candidates had until 30 September to register, and now have until 22 October to submit a video recording to support their application.
The competition has announced new rules this year to allow younger dancers (aged 14 and 6 months) to apply. The age requirement has been moved in order to include slightly younger students, giving them the proper entry age for most professional schools during the same competition year. The change is a logical move for the international ballet competition, considering the prizes available to dancers, in terms of vocational school scholarships.
Created in 1973, the Prix de Lausanne is a competition for young dancers. Its goal is to discover, promote and support the finest talents. 68 of the world's most prestigious dance schools and companies, such as the Royal Ballet in London, the Vaganova Ballet Academy in St. Petersburg, the San Francisco Ballet School and the Australian Ballet, are associated with the Prix de Lausanne and support its activities.
Applications are also open for the 2018 USA International Ballet Competition in Jackson, Missouri. The USA International Ballet Competition is the third oldest ballet competition in the world. The 2018 competition has also also seen it expand its age limits, much like the Prix, with the junior division open to ages 14-18 and the senior division 19-28.
Australian-born John Meehan, who danced as a principal with the Australian Ballet and American Ballet Theatre, is 2018 USA International Ballet Competition jury chairman. Joining him in Jackson from 10 – 23 June next year will be jurors Nina Ananiashvili, Ashley Wheater, André Lewis, Trinidad Vives, Feng Ying, Xiomara Reyes, Stanton Welch, Marcia Haydee, Hae Shik Kim, and Yuri Fateev.
Coinciding with the two-week competition, the USA International Dance School will offer pre-professional ballet students (ages 12 – 20) daily classes with renowned teachers.