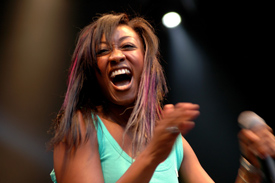 Musical theatre stars Michael Ball, Beverley Knight, Lee Mead, Sophie Evans, John Owen-Jones and the musical theatre group Collabro will appear as part of Stages, a festival aboard the Royal Caribbean's Navigator of the Seas cruise ship. Setting sail in 2018 on 15 October, this new musical theatre cruise has been announced to the great delight of fans of the genre. Stages is run by Floating Festivals, and is a unique chance to experience truly different entertainment.
As a musical theatre-themed cruise, Stages as an event claims to be the first ever fully immersive musical theatre festival at sea, featuring this host of West End and Broadway stars. The star talent boarding the ship also includes singer and impressionist Christina Bianco, completing the line up of enviable performers – the ship will fast become the most talented vessel at sea in hosting the Stages festival.
Guests will start their fascinating journey by walking a red carpet onto the ship. On board, entertainment will include the Vegas-style 'Casino Royal' and a surf simulator, just adding to the fun. The cruise will encompass a four day trip in total, setting sail in Southampton, with a stop-off in Amsterdam. Guests onboard can also watch a performance of the Olivier Award-winning production Showstopper! The Improvised Musical, take part in a masquerade ball and have a chance to join a musical theatre choir, as well as take part workshops with the stars and live Q&A events.
The ship looks set to host show-stopping performances and experiences for passengers, who will also have the opportunity to meet and hear from the people behind some of the most celebrated musical theatre shows in the world. To witness the group of talented performers in one place is a once in a lifetime experience.