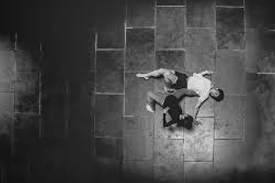 Touring company Motionhouse has announced the dates for the premiere tour of its brand new production Charge, a new multimedia dance-circus which premieres next month. October will see the company present the new dance piece at a number of venues, inspired by energy. It focuses on the electrical charge that sparks human life, from hearts beating to the memories humans make.
Six performers will use highly physical dance and acrobatics – now synonymous with the performance style of Motionhouse – to delve deep into the human body, tracing the story of energy in our lives. Digital projections will be used on stage to create a world where dancers and images interact seamlessly, bringing to life stories of bodily energy and the Earth's weather systems. After opening at Warwick Arts Centre on 4 October, the production will tour to 25 venues in the UK and Europe. The production will continue to tour throughout 2018 and beyond.
Charge is the third 'element' of Kevin Finnan's 'Earth Trilogy', developing themes explored in his pieces Scattered (2009) and Broken (2013), about our relationship with water and the Earth. Finnan is Motionhouse's Artistic Director, and was Choreographer and Movement Director of the Opening Ceremony of the London 2012 Paralympic Games. He has worked to create a unique set for the show, creating a world on stage where dancers and digital imagery interact.
Charge is a unique collaboration between art and science: Motionhouse is working with science partner Professor Frances Ashcroft and her team from the University of Oxford on the role of electricity in the human body, to support the creative and choreographic process,and to put science at the heart of artistic practice. The piece brings multiple disciplines together to create one piece of work, giving audiences new perspectives on energy and the science behind it.