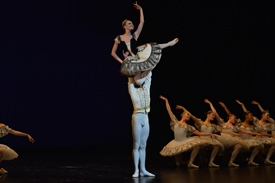 Ekaterina Krysanova, Semyon Chudin, Maria Alexandrova and Vladislav Lantratov of the Bolshoi Ballet, along with students of London Russian Ballet School, presented Romantic Revolution earlier this month, staged at the London Palladium on 18 September. Entitled Romantic Revolution, the performance was a philanthropic endeavour to engage young children in ballet and impart some of the richness of the art onto them. Accessibility is the name of the game, with tickets priced affordably to enable as wide an audience as possible to see Bolshoi artists perform.
For one night only, London Russian Ballet School demonstrated its continued collaboration with the world-famous Bolshoi Ballet, bringing ballet and classical music to young people in London. 800 children from Lambeth, Brent, South West and West London, who have never visited a theatre to see ballet, and most of whom have never heard of the Bolshoi Ballet, joined the audience at the London Palladium. Their attendance was free, with transport provided.
The leading Bolshoi principals presented a programme alongside the London Russian Ballet School students, including the classic Don Quixote. A new work was also premiered, specially created for Alexandrova and Lantratov. Alexandrova was a student at the Moscow Choreographic Academy, and in 2004 she became a Bolshoi Ballet principal. Lantratov completed his studies at the Moscow Choreographic Academy, joined the Bolshoi Ballet shortly after.
London Russian Ballet School is based in Clapham and is a vocational school and charity, teaching ballet to and educating young people from widely diverse backgrounds. Its Artistic Director, Evgeny Goremykin, danced with the Bolshoi Ballet for over twenty years and founded the school on the principles of his own ballet education, with a dominant ethos of opportunity and inclusivity. The goal of the school is to give students the best of the past in order to work for the future; students train with former artists of the theatres and ballet schools of Russia where tradition and knowledge are passed from one generation to the next.