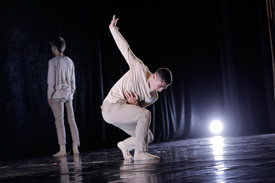 Sadler's Wells Associate Artist Wayne McGregor, the multi-award winning British choreographer and director, will present the world premiere of Autobiography, from Wednesday 4 – Saturday 7 October, at Sadler's Wells, London. His company works under the name Company Wayne McGregor as a Sadler's Wells Resident Company. Autobiography will follow its London premiere with a UK and world tour.
Company Wayne McGregor is renowned for focusing on radical and challenging dance innovations. In this highly personal work McGregor embarks on his boldest and most intimate collaboration to date. Autobiography has genetic sequencing at the heart of its choreography, as McGregor allows world-leading geneticists to sequence his entire genome. His personal biological information will be laid bare, and will dramatically alter McGregor's view of his own life-story, highlighting what creates our individuality.
Autobiography marks the first piece McGregor has created in his own world class arts space, Studio Wayne McGregor, which opened in March 2017. Studio Wayne McGregor is partnering with Wellcome Genomics Campus, Wellcome Sanger Institute and the European Bioinformatics Institute for Autobiography. Wellcome Genomics Campus is the largest hub for genomics research, bioinformatics, and associated commercial and engagement activities in the world.
Wayne McGregor CBE is a multi-award winning British choreographer and director, with his work spans international commissions across dance, visual arts, film, theatre and opera, as well as a look across science, technology and the arts to prompt questions about some of the phenomena of 'physical thinking'. McGregor has choreographed over 30 works for his own dancers, within Company Wayne McGregor. He is also Resident Choreographer at The Royal Ballet, where his productions are acclaimed for their daring reimagining of classical language. He is Professor of Choreography at Trinity Laban Conservatoire of Music and Dance, an Honorary Doctor of Science from Plymouth University and an Honorary Doctor of Letters from University of Leeds.