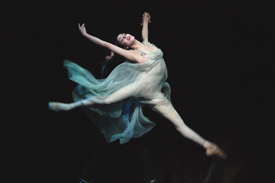 English National Ballet has announced its 2018 Spring/Summer season, including a world premiere of new work by William Forsythe created especially for English National Ballet, a new version of My First Ballet: Swan Lake to tour the UK and Kenneth MacMillan's The Sleeping Beauty to be performed at the London Coliseum.
April next year will see English National Ballet present the world premiere of a new work by one of the most revered choreographers working today, William Forsythe. This will be his first creation for a UK ballet company in over 20 years. Forsythe's new work will be presented as part of Voices of America, a new mixed bill dedicated to neo-classical ballet 'with an American accent', featuring works with attitude from three generations of choreographers. Alongside this new work, English National Ballet will also perform Forsythe's Approximate Sonata 2016. Originally created in 1996, Forsythe recently reworked this piece for Paris Opera Ballet.
Voices of America sees another work new to English National Ballet, Jerome Robbins' The Cage. One of Robbins' most shocking and intense ballets, The Cage looks at the rites and rituals of a species where the female considers the male to be prey, featuring 14 female and two male dancers. Completing the mixed bill is a reworked version of Aszure Barton's Fantastic Beings. Originally created as part of English National Ballet's She Said programme in 2016, Fantastic Beings is a mysterious, magnetic work, accompanied by a dynamic score, performed live.
Next spring, English National Ballet will present a brand-new version of the ever-popular My First Ballet: Swan Lake, which will premiere at London's Peacock Theatre before touring to seven venues across the country. Created in partnership with English National Ballet School, the My First Ballet series reworks popular ballet titles to make them accessible to children as young as three. In June 2018, English National Ballet will revive Kenneth MacMillan's The Sleeping Beauty at the London Coliseum. This classic dark fairy-tale ballet features stunning sets and elaborate costumes, and its revival coincides with the recent anniversary of MacMillan's death.